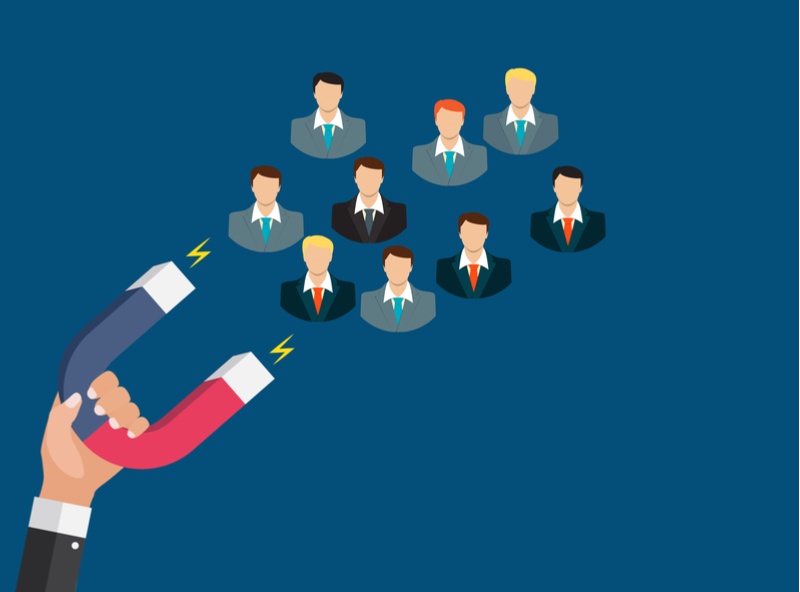 Customer acquisition is the strategic process of bringing on new clients or customers to your business. A good customer acquisition strategy is necessary for business growth and keeps employees, leaders, and investors happy. Customer acquisition, along with demand generation, sales enablement, and client retention, is a major component of a revenue generation plan.

The goal of building a customer acquisition strategy is to create a repeatable, sustainable process that will generate new revenue predictably over time.
There's a lot that goes into an effective customer acquisition plan, but for most growth-minded B2B companies, the essential elements of a good strategy are the same. Allow plenty of time (3-6 months) to work on your strategy internally, involve the right partners, and select the right technology tools.
Here are the key steps to follow to create a customer acquisition strategy that will set you up for success in 2019 and beyond.
Align Upfront
Customer acquisition is an interdepartmental effort. Make sure you're involving all of the right team members from the right departments as you set out to build your customer acquisition plan.
Invite key members of your sales, marketing, product, account, customer service, and leadership teams to ensure that everyone is aligned on key initiatives, including:
Target personas

Ideal customer profile

Goals

Technology

Roles and responsibilities

Defined lead stages - MQL, SQL, sales opportunity, etc.
Meet early and often when developing your strategy. Make sure you clarify what constitutes a sales-ready lead, where the handoff is made between marketing and sales, and what information your sales team needs in order to qualify the individuals that marketing is passing over to them.
Create Engaging Content

Creating valuable content is at the heart of a high-caliber customer acquisition strategy. Companies that are embracing content marketing are generating 67% more leads per month than those who don't.
That's because B2B customers today are more than 70% of the way through the decision-making process before they will engage with a sales representative. Businesses that fail to focus on the first 70% of that journey miss out on huge customer acquisition opportunities.
To build a successful customer acquisition strategy, create a robust library of unique, valuable, educational content that helps your target audience answer their questions and address their pain points at all stages of the funnel.
Effective content marketing for lead generation and customer acquisition starts with a good strategy. Develop a cohesive content strategy, and then create lead magnets:
Webinars

Free trials

Workshops

Checklists
Create Conversion Points
Once you've created valuable content for your target audience, you'll need to create opportunities for interested visitors to convert into leads and enter your sales funnel.
Create these opportunities by designing conversion points throughout your website. Start by adding a relevant call-to-action to your home page to see the most significant lift quickly.
Then, map your website pages, and identify which pages are for top-, middle-, and bottom-of-the-funnel visitors. Add a corresponding, relevant CTA to pages that appropriately match the funnel stage of the offer you are trying to promote. Prioritize high-traffic and bottom-of-the-funnel pages first for maximum impact. You'll see a boost in your site-wide conversion rates, and your funnel will start to fill up with leads from every stage.
Drive People There (Generate Demand)

Once you've got a healthy library of content and a website that's optimized with multiple opportunities for conversion for your target personas at all different stages of the funnel, work hard to drive qualified traffic there.
Use a potent mix of the following tactics to drive qualified traffic to your website and start generating leads all over the funnel.
SEO - Optimize your website pages, blogs, and other content to pull in search engine traffic.
Social media - Share your content on your company's social media pages and in relevant groups to get more eyes on your website. Consider promoted posts for content that already performs well organically.
Email marketing - Segment your existing email database and drive them to your website by showcasing valuable content, or consider renting or purchasing a list to get new eyes on your company.

ABM

- Use account-based marketing to direct hand-picked accounts to explore your website.
Trade shows - Use advanced trade show lead nurturing to engage trade show leads with your brand content.
Direct mail - Include a special tracking URL on your direct mail pieces to maximize the results of your direct mail or lumpy mail campaigns.
Speaking engagements - Include your website URL on your presentation slides and use lead nurturing campaigns to maximize speaking engagement opportunities.
PPC - Use your digital ads to drive visitors to conversion-optimized landing pages with simple opportunities to convert.
Whatever works for your audience, get them to your website and drive them to conversion-optimized landing pages to prompt their entry into your database and sales funnel.
Nurture Your Leads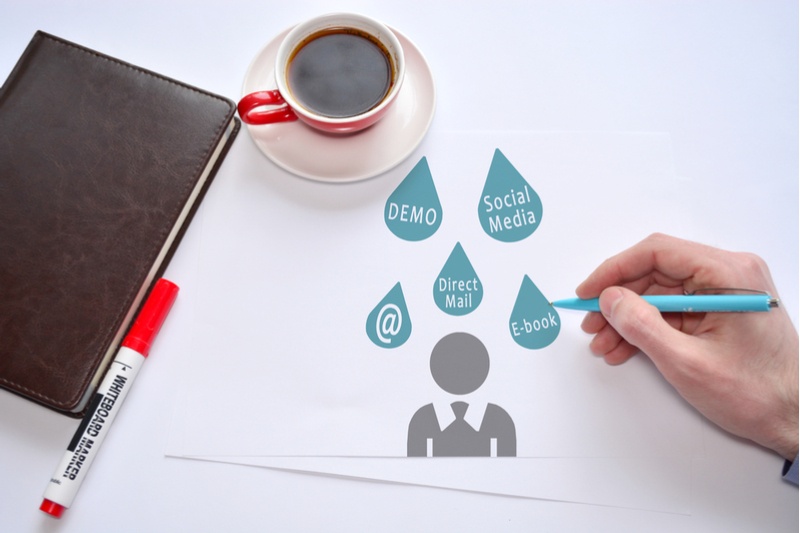 Use marketing automation technology to nurture your leads and streamline your customer acquisition process. A modern customer acquisition process needs to rely on modern marketing automation in order to work effectively.
Lead nurturing is a complex discipline that has the potential to move mountains when it comes to warming up leads and improving customer acquisition numbers. But, I'm going to be straight with you: trying to handle lead nurturing and/or customer acquisition in 2019 without sufficient technology in place is a waste of time.
There's really no excuse today to fail to leverage any of the thousands of tools available to help you acquire new customers for your business. Most are low-cost or free, easy-to-use, and often easy to integrate with other important systems in your business.
Empower Your Sales Team
Empower your sales team with the tools and processes they need to succeed. Invest in an easy-to-use CRM like HubSpot to get organized and define a concrete sales process that everyone can stick to.
Integrate your CRM with your marketing automation platform and website to give your team full access to lead intelligence, such as website visits, social media follows, emails opened, content downloads, webinars attended, and more.
Additionally, be sure to equip your sales team with sufficient sales enablement content and support. Work with your sales reps to identify common barriers or impediments to customer acquisition, and work with the full team to knock them down.
Technology makes it easy to identify good opportunities to enrich your sales process and make it more efficient. Make sure sales and marketing are communicating regularly to identify good opportunities for sales support content, like case studies, FAQs, or pricing guides.
Meet regularly, and discuss impediments your sales team is running into. Identify good opportunities for new content, like case studies, FAQs, comparison guides, or pricing sheets.
Get input on the quality of the leads your marketing efforts are generating, and use those insights to refine your strategy over time.
Analyze Metrics and Audience Behavior

In customer acquisition, it's all about the data. Data should be informing every single one of your major customer acquisition decisions.
A primary benefit of a customer acquisition strategy rooted in technology is the ability to analyze data instantly, continuously, and in real-time throughout the life of the campaign. The true power of your data comes from your team's ability to optimize every aspect of your program based on the trends that they see.
For example:
If your sales pipeline tends to clog at the proposal stage, it might be a good sign that you should take a look at your proposal. Check there first to see if there's anything obvious that jumps out that could be the reason for the stall in closed deals.

If your webinar attendance was 10% higher when you removed a certain form field, you can apply that learning to boost webinar conversions for all webinars going forward.

If a green CTA button consistently outperforms a red CTA button on your website, you can try out the color red for more CTA buttons, lifting conversion rates across the top-trafficked pages on your website.
Of course, not all of your hypotheses will be correct. It's all about testing and refining your ideas over time to boost results.
How to Calculate Customer Acquisition Cost (CAC)
Be sure to calculate, track, and improve your customer acquisition cost over time in order to evaluate the effectiveness of your strategy. Simply divide your marketing costs associated with a specific campaign by the number of customers you acquired as a result in order to calculate this key metric.
Other Key Metrics
Benchmark, monitor, and optimize for these other key metrics as well to gain continuous improvement over time in your customer acquisition efforts.
Lifetime customer value (LTV)

Ratio of LTV to CAC

Average sales cycle length

MQL to SQL conversion rate

Customer and subscription churn rate
Make sure you have a committed team that is dedicated to your analytics to keep your customer acquisition efforts from stalling.
Commit to the steps above to develop a strong customer acquisition strategy for your business. Use technology and work with a trusted partner to fuel your efforts, and you'll be seeing great results in no time.