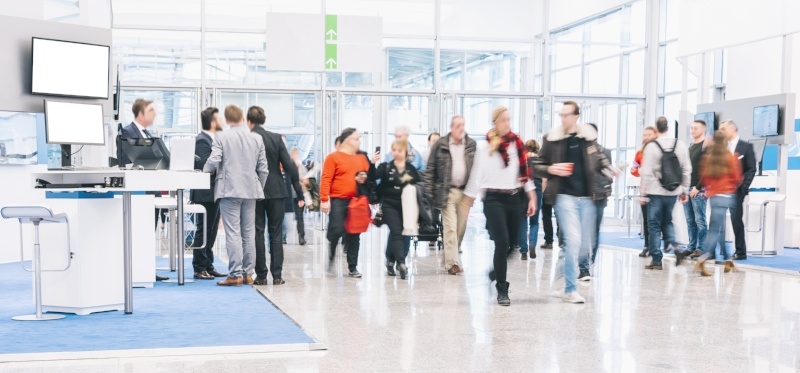 Many sales teams sheepishly admit they're not the greatest when it comes to following up with trade show leads.
I get it, believe me. When you attend an industry trade show, your time there is a whirlwind of introductions, conversations, and contact info exchanges. You come back with an overwhelming stack of business cards, set of notes, and host of new LinkedIn connection requests. Not to mention the stack of unopened emails in your inbox and other work that has piled up while you've been out of the office.
To be clear, highly-qualified leads that are ready to make a purchase right away are not usually a problem. Where many sales teams fall short, though, is in the follow-up, management, and nurturing of qualified trade show leads who are not ready to buy just yet.
Luckily, this is an area where marketing automation tools like HubSpot can really shine. Here's how sales, marketing and technology can work together to master the art of trade show lead follow-up and turn trade show leads into customers.
Preparing For A Tradeshow Show
There are a handful of important actions you should take before the trade show to streamline your follow-up strategy. The more prepared you are going into the show, the better your team will be equipped to properly manage leads afterwards.
Create a plan
A lot goes into organizing participation at a big trade show or event. Be sure to include a comprehensive lead management plan as part of your overall trade show strategy.
Your lead management plan should be a collaborative effort between your marketing and sales teams. Include all specific marketing and sales actions that will take place during and after the show. Make sure you have clearly designated roles and responsibilities so that everyone on both teams is ready to go.
Assign who at the show will be collecting lead data and who on your team will be responsible for entering leads into your database. Build out automated lead nurturing campaigns to ensure that no leads slip through the cracks afterwards.
It's very important to have all of the pieces of your plan place before the trade show starts. Trying to handle this on-the-fly or after the event will cost you precious time, and you'll risk making rushed mistakes that reflect poorly on your brand.
Build tiered lead nurturing campaigns
The single best way to generate more customers from trade show leads is to build strategic lead nurturing campaigns using marketing automation software. Lead nurturing is vital today for all businesses that want to grow their revenue and see increased ROI.
With strategic lead nurturing, your trade show leads will stay engaged with your brand and move through your sales funnel progressively. When a lead is ready to talk to your sales team, the lead is warm, and your brand is already top-of-mind.
Consider the following statistics on lead nurturing:
67% of B2B marketers say they see at least a 10% increase in sales opportunities through lead nurturing (

Source

)

Nurtured leads make 47% larger purchases than non-nurtured leads. (

Source

)

According to Forrester Research, companies that excel at lead nurturing generate 50% more sales leads at 33% lower cost-per-lead. (Source)
Your trade show lead management plan should include a tiered lead nurturing strategy for your leads, with tracks designed for at least three priority levels.
P1 - High-Priority Leads
These are your hottest leads from the trade show. Your "P1" group should include qualified leads who are heavy influencers or confirmed decision-makers, and who have expressed an interest in your product or service.
Since these are sales-qualified leads, the purpose of your lead nurturing campaign for this group should be to confirm and finalize previously-laid plans, such as scheduling a demo or consultation. The HubSpot Sequences tool is the great for this type of outreach.
P2 - Medium-Priority Leads
These are leads who are a potential fit for your product or service down the road, but who are not ready to buy today, for any number of reasons. Perhaps he or she is not the decision-maker, or maybe the company is locked into a contract with one of your competitors for a few months longer.
Your approach with this group should be to keep the list engaged and keep your company top-of-mind for when these leads do need to make a buying decision. Their lead nurturing emails should include plenty of educational, valuable content like webinars, educational videos, blog posts and infographics.
You'll want to obtain consent from your leads, and then get them enrolled in HubSpot workflows to nurture them through your funnel.
P3 - Low-Priority Leads
These are leads who are not interested in your product, at least today, or they are not a good fit right now. This could be a qualified decision-maker who is very happy with his or her current solution, or it could simply be an unqualified company. This is also the right group for any trade show attendees for whom you have contact information, but who you did not specifically interact with at the show.
These are your lowest-priority sales leads, but remember, these individuals are valuable for brand awareness and potential referrals down the road. Offer a mix of educational and promotional content for this group, and include information about your partnership and customer referral programs.
Some teams have a dedicated HubSpot workflow/nurture for this audience. Others simply provide a monthly or quarterly newsletter.
Design lead nurturing tracks specifically for each group. Schedule the first email in each nurture track to go out no later than 24 hours after the show ends, and then customize the cadence and content of the remaining emails based on the needs and preferences of each group.
When leads are added to your database at the trade show, they should be added to the appropriate nurturing track based on the priority level that your team assigns.
Build a lead scoring model
Another good tip to help you master trade show lead follow-up is to build a lead scoring model specifically for your trade show leads. A lead scoring model helps your sales team identify which leads are most ready to buy. Your show-specific lead scoring model can be built ahead of time to identify leads from the trade show who engage the most heavily with your company in the days and weeks following the event.
In your model, be sure to include scores for:
Email opens, clicks and conversions for lead nurturing campaigns
Brand interaction post-trade show, like viewing website pages, downloading your content, subscribing to your blog, or following your company on social media.
On-page website interactions captured through events, like watching a video

During the Show
When you're onsite at the trade show, use the following tips to streamline lead management.
Use technology for lead capture and intelligence
Trade shows tend to handle lead capture for their events in few different ways:
Full list of attendees is released to sponsors and others in advance of or at the event.

A lead capture device is provided on-site.

It is entirely on the sponsor organizations to handle lead capture.
If you're lucky enough to get a hold of the attendee list in advance, use this to your advantage and research leads ahead of time.
If it's up to you to capture leads, you can use tools like Evernote or ABBYY Business Card Reader to scan business cards and update information like social media profile links and notes on your meeting. Some apps are also able to search LinkedIn by email address to pull in a useful photo and other data. Your sales team can then use lead intelligence software, like HubSpot's, to pull in data like the company's annual revenue or headquarters location.
Some other good options for capturing leads are to build a landing page for onsite lead capture, or set up a text messaging short-code. These strategies work well when you have valuable content or another offer that is valuable to your audience.
No matter what technology solution you choose, be sure to test it thoroughly before the trade show, and always have a backup plan in case you run into a technology hiccup the day-of.
Collect and organize data
Collecting organized data at a trade show is not easy. Your sales team is likely to return each day with a collection of post-it notes, business cards and random pieces of contact information. While technology has advanced to begin to help marketing and sales teams capture leads, these technologies are not quite mainstream yet, particularly as it relates to capturing your notes.
While at the trade show, it is imperative that your team carve out time to enter your leads directly into your HubSpot CRM or, at the very least, into a spreadsheet that can be added to your marketing automation system. Update the spreadsheet with all necessary fields, including the source of lead generation (the trade show). Make sure you include a field for "priority level" or utilize separate lists so that leads are enrolled into the proper lead nurturing campaign.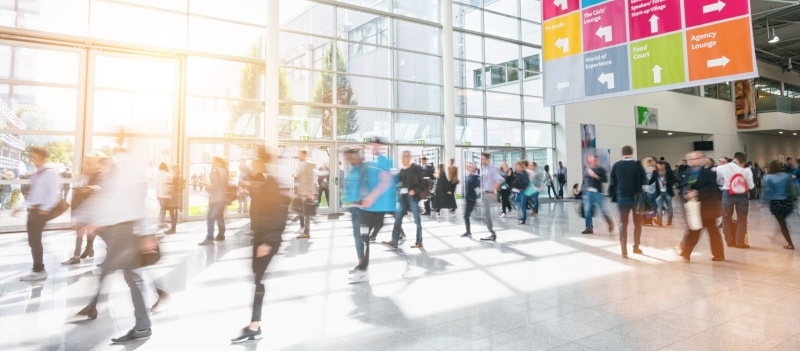 After the Show
Now it's time to let your new lead nurturing campaigns shine! See these best practices through to the end to make sure no lead is left behind.
Launch your post-show lead nurturing campaigns
If you've done a good job planning ahead, your lead nurturing emails should be finalized and ready to go in your marketing automation platform. All that will be left for you to do is identify which set of trade show leads should receive each message, and personalize your email messages as needed.
Example
If you're not sure where to begin, here's an example P2 (medium-priority) lead nurturing email to get you started.
From: Meghan Hultquist (meghan@hq-digital.com)
Subject: Post-[Name of Event] lead generation guide
Dear [First Name],
It was great meeting you at [Name of Event]. I really enjoyed learning about [Company Name] and some of the lead generation challenges you are facing.
As we discussed, here's a link to a great free guide we have on using marketing automation as a tool to generate sales leads.
I hope you find it really valuable. Please don't hesitate to reach out with any questions, and I'd love to get your feedback on the content whenever you have some time.
Thank you,

Meghan Hultquist
President, HQdigital
Cell: 610.442.2481
Calendar


Lead Nurturing Campaign Tips
Here are some best practices for your post-show nurturing campaigns:
Send your first email within the first 24 hours after the show ends.

Give leads every opportunity to recognize your team, and make connecting easy: personalize emails to come from your sales rep's name and email address, and include their headshot, phone number, calendar link, and LinkedIn profile in the email signature.
Use sequences, a special type of lead nurturing campaign that automatically breaks the chain once a lead responds. This ensures that the lead receives no additional automated marketing messages and allows your sales rep to engage directly with leads who reply.

If

your leads don't respond after 3-4 outreaches, it's probably time to disqualify them and maybe move them into a remarketing campaign.

Be sure to include a mix of gated and un-gated content in your lead nurturing campaign.
Arm your sales team with data
When a trade show lead becomes ready to talk to sales, make sure your sales team is armed with all available lead intelligence and data insights that you've collected in your marketing automation and CRM systems. Using these systems, sales reps should have easy, real-time access to data like:
How many employees work at the lead's company

How many emails a lead has opened or clicked

How many pages a lead has viewed on your website

Whether a lead has watched a product demo video on your site

Whether a lead follows your company on social media
Analyze and optimize everything
Be sure your teams are regularly analyzing all of the lead nurturing campaigns that you built in order to optimize them. Track your sales cycle length by tracking average days until close, and be sure to note any engagement metrics that are pertinent to the campaign.
Check in on your lead scoring model to learn which trade show leads have been interacting with your website and content. Use the model to identify the warmest leads, and consider personalized outreach to the best-fit prospects.
And, of course, be sure to properly attribute all leads, opportunities, and closed sales to the show so that you can easily calculate ROI.
Follow this formula, and you'll transform neglected and under-nurtured trade show leads into new customers for your business.
Discover how to leverage marketing automation as your sales team's secret weapon with our free guide, Strategy Blueprint: How to Use Marketing Automation as a Sales Tool.