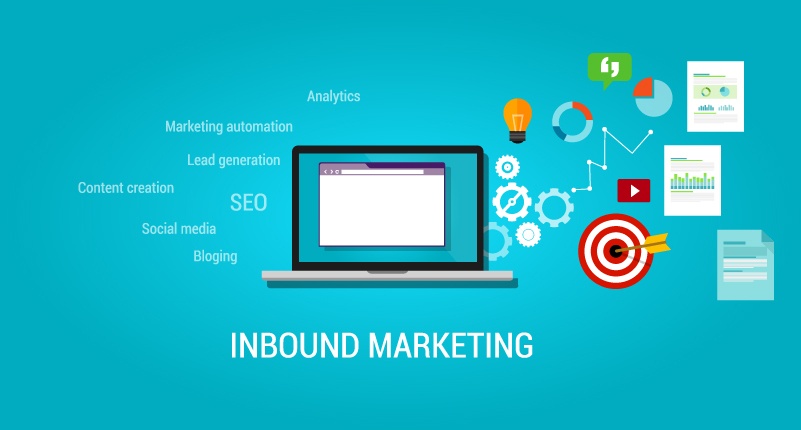 Whether you're new to inbound marketing or just brushing up your skills, it can feel a bit like learning a new language at times. There are quite a few vocabulary terms that are extremely helpful to understand in order to leverage inbound marketing most effectively.
We've put together this comprehensive glossary of inbound marketing terms to help you learn to speak the language of inbound fluently.
A/B Testing
A/B testing means showing two different versions of the same website page to visitors to determine which version performs better. Once a statistically significant sample size of data has been collected, marketers will declare the "A" or "B" version the winner. It is a best practice to only test one element of a page at a time when running an A/B test.
Alignment
Alignment refers to agreement on core strategy principals between your marketing and sales teams. The more aligned your marketing and sales teams are on items like target personas, ideal customer profiles, and keyword strategies, the better your lead quality will be for inbound leads generated.
Agile
Agile is a process methodology and framework commonly used for planning and execution of inbound and digital marketing tactics. Agile was first adopted by the software industry for complex development projects, and its principles have been found to be very applicable to the inbound marketing space. An agile approach to inbound marketing means having a team collectively prioritize and focus on high-impact projects that are completing on a rolling, cyclical basis with a focus on continuous improvement over time.
Analytics
Analytics means the interpretation of your inbound marketing data to make informed recommendations that will get you better results. Analytics is the study of the numbers and data underlying your website, blogs, email campaigns, and other inbound marketing assets. Analytics and optimization is a specialty area in inbound marketing that is extremely vital to a successful campaign.
API
API stands for application programming interface. An API is a piece of technology that works as a connector between two technology systems, like a marketing automation platform and a website. Many marketing technology solutions integrate natively; however, if there is no native integration available, an API serves as a bridge to connect the two systems. APIs are used to link together various pieces of a marketing technology stack.
Attribution
Attribution is the process of identifying a series or set of actions or events that contribute to a desired outcome, such as a closed sale. Attribution works by assigning a value to inbound marketing actions to calculate an action's specific value.
Awareness Stage
In inbound marketing, the awareness stage means the top of the funnel. It is the phase of the buyer journey where prospects are becoming or have recently become aware of a pain point or problem that they are experiencing and that your company can help solve with its products or services. Buyers in the awareness stage are typically most interested in top-of-funnel, educational content.
B2B
B2B stands for business-to-business, and it means a company that sells to another business, rather than to an individual consumer. Some companies are both B2B and B2C.
B2C
B2C means business-to-consumer, meaning a company that sells its products or services to an individual consumer.
Blog
A blog is a series of articles, or posts, that an author publishes, usually at a regular cadence. Blogs are often organized chronologically and by topic. Having a well-maintained, regularly updated blog is often a key traffic driver in an inbound marketing program.
Blog Post
A blog post refers to an individual article or entry on a blog. Blog posts have one or more authors, cover a single topic, and are generally between 500-1,500 words. A collection of blog posts makes up a company's blog.
Bot
A bot is an automated agent used on your website to enhance user experience and to generate or qualify leads. Bots use pre-programmed, automated responses to direct users to helpful content and/or sales reps if they are ready to make a purchase. Bots are commonly used for functions like live chat, lead qualification, and scheduling meetings, and add lift to an inbound marketing program by facilitating better user engagement and by integrating an automated component to lead generation and qualification.
Bounce Rate
A website or web page's bounce rate is the percentage of people who come to the site or page and leave immediately, without visiting another page. This is an important data point tracked in inbound marketing programs.
Alternatively, an email bounce rate is the percentage of email addresses that were invalid out of a total number of emails sent in an email marketing blast.
Buyer's Journey
The buyer's journey refers to the metaphorical path a prospect takes on his or his way to becoming a customer. The buyer's journey is an important strategic concept to understand in inbound marketing and is referenced regularly in resource materials. The buyer's journey consists of three stages: awareness, consideration, and decision. Each stage has unique properties, considerations, and best practices for inbound marketing.
Campaign
A campaign is a packaged set of inbound marketing tactics planned and executed to achieve a specific goal. A company may run one or more inbound marketing campaigns concurrently.
CAN-SPAM
The CAN-SPAM Act is United States legislation that requires businesses to conduct themselves a certain way when using email to contact current or potential customers.
According to the FTC, the CAN-SPAM Act is "a law that sets the rules for commercial email, establishes requirements for commercial messages, gives recipients the right to have you stop emailing them, and spells out tough penalties for violations."
Inbound marketers in the United States must comply with all applicable CAN-SPAM guidelines, including certain language that must be specified in any email marketing communications with your database.
CASL
CASL is an acronym for the Canadian Anti-Spam Legislation, which was enacted in July 2014. CASL places severe restrictions on marketers in the interest of protecting Canadian citizens from unwanted or harassing email communications. CASL is is one of the harshest laws of its kind worldwide, and inbound marketers who interact with contacts anywhere in Canada should be compliant with its rules. For more information on CASL, visit the Canadian Radio-Television and Telecommunications Commission website.
Clickthrough Rate (CTR)
A clickthrough rate, sometimes abbreviated CTR, is the percentage of users who click through a particular email, CTA, blog, or website page out of the total number of users who viewed it. Clickthrough rates are very useful data points for inbound marketers, and inbound marketing optimization efforts often center around improvements in CTR.
CMS
A CMS is a content management system for a website. This is the software system that enables you to add, remove, or make changes to your website pages, content, or architecture. WordPress is the world's most popular CMS platform, though there are many good options out there.
Confirmation Page
A confirmation page is the page that a website visitor sees upon completing a form for an inbound marketing content offer. The confirmation page serves to confirm the user's submission and thank the user; return the user's navigation; and provide an opportunity for a secondary CTA.
Consideration Stage
In inbound marketing, the consideration stage means the middle of the funnel, when a target buyer is evaluating their options to solve a pain or problem that they are experiencing. In this stage, the buyer is considering various solution types to his or her problem. Buyers in this stage respond well to particular content types, such as case studies and webinars. The consideration stage is the second of three phases in the buyer's journey.
Contact
A contact is an individual person in your marketing database. Contacts are represented as unique records, anchored by an email address. A contact may be added to your database by uploading a list, or through submitting a form on your website that is connected to your marketing automation platform.
Content Audit
A content audit is a comprehensive review and strategic mapping of your marketing content in order to gain an understanding of where any gaps exist. Content is organized by funnel stage, target persona, industry, and more. A content audit is generally recommended as an upfront strategy deliverable in an inbound marketing program.
Contact Record
A contact record is a holistic, historical view of an individual contact's interaction with your inbound marketing assets and brand, including your website, blog, emails, social media, and content. A lead's contact record is extremely valuable for a sales rep and for informing inbound marketing optimization decisions.
Content Offer
An inbound content offer is a piece of content that is provided to a lead in exchange for submitting his or her contact information via a website form. A content offer can take many forms, depending on your target audience and funnel stage. Ebooks, whitepapers, infographics, webinars, assessments, trials, consultations, and more can all be potential content offers for your business.
Content Strategy
A content strategy is a foundational strategic document that details the plan for content creation to attract visitors and convert leads on your site. This document serves as a guide for your marketing team as they develop pieces of new content. A good inbound marketing content strategy includes target keywords, target personas, blogs, emails, and content offers for all stages of the funnel. Great content strategies also include video, lead nurturing campaigns, and sales enablement content.
Conversion
In inbound marketing, conversion refers to the moment a user submits a form, an event which transforms an anonymous website visitor into a lead, or a reconversion. A lead's initial conversion represents the lead's entry into your marketing database, enabling you to market to them using automation technology. Lead conversion is a primary goal of inbound marketing.
Conversion Rate
A conversion rate is the percentage of people that convert - that is, complete a form - on your website, out of the total number of visitors. Inbound marketers calculate conversion rates for all different assets in an inbound campaign, such as overall website conversion rate, landing page conversion rates, blog post conversion rates, email conversion rates, social media traffic conversion rates, and more. Conversion rates are extremely important to an inbound marketing program, and optimization efforts most often center around improvements to these numbers.
CPL
CPL stands for cost-per-lead, and it's an important metric to know if you want to measure inbound marketing ROI. To calculate CPL, take your total number of leads and divide it by the cost of your inbound marketing campaign.
CRM
CRM stands for customer relationship management, and it means a software system used by marketing and sales organizations to organize their deal records. Inbound marketing leads should flow into a CRM system for effective pipeline management.
CRO
CRO is a popular acronym for conversion rate optimization. CRO is the practice of optimizing a website, website page, or other inbound marketing asset, for conversion. A set of best practices are applied to a given inbound marketing asset with the specific goal of improving the conversion rate.
CTA
CTA stands for call-to-action, and it means a button, banner or other element that encourages a website visitor to click through to convert on an offer. CTAs are often designed to stand out, in contrasting colors to the website and using action-oriented language to encourage a specific behavior. Contextual CTAs should be used throughout your website, blog posts, and emails to drive the best results.
Deal Stage
A deal stage refers to the stage of an active deal in your sales pipeline, usually documented in your sales process and/or CRM system. Deal stages are often represented as lanes or fields in a CRM and/or marketing automation system. The inbound marketing funnel typically ends at the beginning of the first deal stage in your sales process.
Decision Stage
The decision stage is the final stage of the inbound marketing buyer's journey, and it typically aligns with the bottom of the funnel. In the decision stage, prospective buyers are actively in the decision-making process of their buyer's journey. Leads in this stage of inbound marketing typically respond best to bottom-of-the-funnel content, like assessments, free trials, or demos.
Delivery Email
A delivery email is an email, usually automated, that delivers a piece of content to a lead who has requested it via a website form. Sending a delivery email upon form submission is an inbound marketing best practice and increases a lead's engagement with your brand.
Delivery Rate
Your email delivery rate is the percentage of emails that were successfully delivered out of the total number sent in an email blast.
Deliverability
Deliverability means your ability to deliver emails to subscribers' inboxes. Inbound marketers measure deliverability rates as well as deliverability ratings of various email marketing/marketing automation platforms.
Drop-Down Field
A drop-down field is a form field that presents the user with a list of options to select from when completing a form. Drop-down fields are extremely useful in inbound marketing for database and list segmentation and are typically regarded as more valuable than open-text fields.
Drip Campaign
A drip campaign is a series of automated emails sent for marketing or sales purposes. A drip campaign may also be referred to as a lead nurturing campaign, workflow, or sequence.
Editorial Calendar
An editorial calendar is an execution schedule for your content strategy that includes topics, authors, and due dates. Inbound marketers create editorial calendars to keep the team aligned and informed about key publication dates as well as roles and responsibilities.
Email Blast
An email blast refers to a scheduled marketing email that is sent to one or more lists of recipients. Email blasts are typically sent from a company's email marketing software or marketing automation platform. Email blasts are an important tactic in inbound marketing.
Email Marketing
Email marketing is an arm of inbound marketing to distribute relevant content and engage interested leads via email. Email marketing strategies in an inbound marketing program take many forms, including lead nurturing campaigns, educational email newsletters, blog subscription emails, and more.
Engagement
Engagement refers to a user's or an audience's interaction and engagement level with a piece of content, like an email, with your website, or with your brand overall. Engagement can be tracked and measured by analyzing certain digital metrics, like time-on-page, click-through rates, heat maps, and more. Search engines factor in the engagement level of users on websites when they return their ranked results.
Form
A form is a conversion point on your website whereby a user submits his or her contact information by way of form fields in exchange for a piece of content or other offering. This is the entry point for a lead into your marketing automation system. A form consists of individual form fields and a submit button, which completes the submission.
Flywheel
The flywheel is an inbound marketing concept introduced in 2018 by Brian Halligan and Dharmesh Shah, the co-founders of HubSpot, who are also credited with founding inbound marketing. The flywheel is an upgraded version of the traditional marketing and sales funnel and consists of three constantly cycling and overlapping parts: marketing, sales, and service.
Friction
Friction means anything that impedes a user from converting on a website page. Friction can be caused by a number of things, including user frustration, confusion, or too many options on a page. Inbound marketers seek to identify and minimize friction points across a website.
From Email Address
In inbound marketing, the "from email address" is the address from which marketing emails or email blasts are sent. It is a best practice to have inbound marketing emails come from the email address for a specific person in your organization, rather than using a generic info@ or sales@ email address.
From Name
In inbound marketing, a "from name" is the name of the person or organization that appears to have sent a marketing email. It is a best practice that emails sent as part of an inbound marketing campaign be sent from the name of a real individual who works at your company, rather than from a generic company name.
Funnel
The inbound marketing funnel is a concept and common visualization for how traffic and leads engage with a brand's content and technologies to move through their buyer's journey and ultimately become customers. The increasing narrowness of the funnel is representative of the effort and metrics necessary to hit a company's revenue goals by way of inbound.
GDPR
GDPR stands for General Data Protection Regulation, and it is a data privacy regulation that went into effect in 2018 in the European Union. It affects businesses worldwide who transact with anyone in the EU and the European Economic Area. It also addresses the export of personal data outside the EU and EEA areas. Inbound marketers should be keenly aware of and consult an attorney regarding any data privacy laws, including the GDPR, that may affect their business.
Google Analytics
Google Analytics is the most popular and comprehensive website analytics platform. Google Analytics gives marketers incredible insight into how users are getting to and interacting with your site. Google Analytics tracks everything from pages viewed to real-time identification of a visitor's location by city. Google Analytics is free, and its tracking code can easily be installed on any website. Marketers often rely on Google Analytics in combination with other analytics platforms, like HubSpot or Lucky Orange, to get a complete picture of their analytics. Despite the popularity and prevalence of Google Analytics, it is often a tricky system that many marketers struggle with.
Guest Blogging
A guest blog means a post authored by your organization that is posted on another organization's website, or a post authored by someone outside of your organization that is hosted on your blog. Guest blogging is a popular inbound marketing tactic that helps generate high-quality inbound links from referral traffic sources.
Hashtag
A hashtag is a keyword or phrase used on social media to tag or categorize posts so that network users can easily find them. Hashtags are represented with the # symbol before the word and are searchable by clicking on the hashtag within the social media network. Hashtags are often used by inbound marketers to get new exposure to a brand's content.
Heat Mapping
Heat mapping is a category of analytics software that allows you to view, record, and analyze your website visitors' complete interaction with your website. Visitors engagement with your website pages, buttons, banners, navigation items and more are tracked and recorded using heat maps so you can easily identify areas for optimization. Our favorite heat mapping tool is Lucky Orange.
Hero Image
The hero image refers to the primary image on a website page or inbound marketing asset. Your hero image should be relevant, specific, and unique for each website page or asset.
HubSpot
HubSpot is the most popular marketing automation software and the technology platform most commonly associated with inbound marketing. HubSpot's co-founders, Brian Halligan and Dharmesh Shah, are credited with founding the inbound marketing movement.
Ideal Customer Profile (ICP)
Your ideal customer profile is a documented description of the type of company your marketing and sales team seeks to attract. Your ideal customer profile should include key business data like annual revenue or company size. You may have more than one target persona for each ICP.
Inbound Link
An inbound link is a link back to your website that originates from another website, like a business park directory or an industry association membership page. Search engines factor in the authority of the domains that link to your site as part of their ranking algorithm. An inbound marketing best practice is to gain high-quality inbound links naturally and strategically.
Inbound Marketing
Inbound marketing is a strategy and methodology that centers on attracting leads and customers to a brand by drawing them in, rather than by pushing advertising out, to them. Inbound marketing relies on principles of marketing strategy, content marketing, conversion rate optimization, and other disciplines to deliver engaged, qualified leads for marketing and sales teams.
Inbound Sales
The application of the inbound methodology to the sales discipline. Inbound sales means taking a consultative, inbound approach to nurturing opportunities and closing deals.
IP Filtering
IP filtering means blocking specific IP addresses from your website analytics in order to get a clearer picture of your data. Inbound marketers often recommend blocking your office IP, the IP of any remote team members, and the IP of any marketing agency or other partner you're working with.
Keywords
Keywords refer to queries or phrases that users type into a search engine like Google to find information online. Inbound marketing incorporates the strategic research and selection of targeted keywords to incorporate on website pages, blogs, and in content.
Landing Page
A landing page is a critical element of any inbound marketing content campaign. Your landing page is extremely important because this is where a website visitor has the opportunity to convert into a lead and enter your marketing automation database for the first time. There is a special set of landing page best practices for inbound marketing, including removing the user's navigation and minimizing required form fields.
Lead
In inbound marketing, a lead is a contact generated as a result of your inbound marketing program or campaign. Leads are often usually further classified into marketing-qualified leads (MQL) and sales-qualified leads (SQL).
Lead Management
Lead management refers the process of managing a lead post-conversion, once a contact has entered your inbound marketing funnel and your marketing automation platform. Lead management often includes lead nurturing and lead scoring.
Lead Nurturing
Lead nurturing is the automated and systematic process of engaging your marketing leads through email marketing with the goal of engaging leads and keeping your brand top-of-mind, resulting in warmer leads for your sales team.
Lead Scoring
Lead scoring is a strategic approach that hands leads most likely to convert into customers to your sales team using an automated scoring system that assigns points to high-value attributes like website engagement and known demographic data.
Lead Source
Lead source is a common data point or field in a marketing automation platform that identifies the origination of a lead. Common lead sources include referrals, trade shows, and website leads. Tracking the lead source of your leads, sales opportunities, and customers is tremendously valuable for inbound marketing optimization.
Lifecycle Stage
A lifecycle stage is the designation of where a lead falls in your marketing and sales funnel. Common lifecycle stages include Contact, Marketing Qualified Lead (MQL), Sales-Qualified Lead (SQL), and Sales Opportunity.
Marketing Automation
The broad term for a category of software that automates and streamlines certain functions across marketing and sales departments.
Meta Description
A meta description is a snippet of descriptive text that briefly summarizes what a website page is about. This is an on-page SEO element of your website that is viewable in the SERPs. Meta descriptions are typically about 150 characters in length and are one of the primary factors for whether a user clicks through to your website.
Metrics
Inbound marketing metrics are the numbers within your marketing data. Analytics is the study and interpretation of your metrics. Think of metrics as the "what," and analytics as the "why" within your inbound marketing program data.
MQL
MQL stands for marketing-qualified lead, and it means a lead that your marketing department has deemed as qualified to progress through your marketing funnel.
Open Rate
Your email open rate is the percentage of email recipients who opened your email out of the total number sent.
Open-Text Field
An open-text field is a form field that allows the user to type in any response they want, rather than providing the user with a collection of drop-down options to choose from. In inbound marketing, open-text fields are generally less useful that drop-down forms because their values are not easily segmented. Open-text fields are often necessary for individualized information like name, company name, and website URL.
Optimization
Optimization means the practice of making things better by making decisions based on data from your inbound marketing program. Optimization is an important phase of inbound marketing and necessary to see improving results over time.
Organic Traffic
Organic traffic means website visits that originate from an organic keyword search in a search engine. It consists of both branded and non-branded keywords used to find your organization or website.
Persona
A persona, sometimes called a target persona or buyer persona, is a semi-fictitious representation of your ideal customer. Developing target personas is an important first step in creating an inbound marketing strategy. Target personas should include characteristics of individuals your company seeks to work with, including demographic and psychographic data.
Personalization Token
A personalization token is a dynamic element of an email or other digital asset that is personalized to the recipient. Using data from collected forms, a field is populated with a user's information, such as first name, company name, or industry.
Pillar Page
A pillar page is a central hub of information on a given topic that lives on your website. A pillar page is the home of a particular topic on your website and should include rich and robust content around your main topic and related subtopics. Another important element of a pillar page is a strategic network of links, both internal and external, to supporting resources on your topic of choice.
Pipeline
Your pipeline refers to the stages of your funnel, often represented as deal stages in your CRM. Understanding your sales pipeline performance is tremendously insightful for inbound marketers.
Progressive Profiling
Progressive profiling means using dynamic fields on your forms that automatically prompt a return lead for new, additional information in order to further qualify them. Progressive profiling allows you to set up forms on your website that will display questions or prompts for information based on the information you already know and have about the lead. A field that is labeled progressive will display only when the data for that field is unknown. For example, your form may replace the "First Name" field with an "Industry" field for a lead whose name you have already collected. Progressive profiling is a great way to gain additional data about your leads without forcing them to complete complex forms with too many fields.
Prospect
A prospect is an individual or company that your company seeks to do business with. Your company should have specific criteria in mind and defined target personas to guide prospecting efforts.
Read More Tag
In a blog post, the "read more" tag is an indicator of where the post should cut off on the blog listing page, with a prompt for the reader to click through to read the full article. Read more tags are typically inserted into a blog post after the first 1-3 paragraphs.
Referral Traffic
Referral traffic means traffic that comes to your website that originates from another domain. Referral traffic can come from any number of sources, but common ones include industry or local directories, guest blogs and industry publications, and news or press opportunities. Understanding your top referral traffic sources will improve the performance of your inbound marketing program.
Responsive Design
Responsive design means your website, blogs, and emails render well on any device, at any size.
Sales Cycle
Your sales cycle refers to the length of time, or the full process of how a sale is completed within your company.
Sales Enablement
Sales enablement means the processes, systems, and content that empowers sales teams to sell at a higher velocity. Sales enablement is typically executed hand-in-hand with an inbound marketing campaign, and there is much overlap between the two approaches to engaging leads and generating revenue.
Sales Opportunity
A sales opportunity is a prospect who is actively engaged in your sales pipeline. This is a useful deal stage to include as part of an inbound marketing program to track funnel and pipeline performance.
SEO
SEO stands for search engine optimization, and it means the practice of optimizing a website or other digital asset for search engines (primarily Google). SEO is based on best practices to optimize websites to rank well in a secret algorithm that tends to favor high-quality and helpful content for search engine users. The goal of SEO is to rank well on search engine results pages (SERPs).
SERPs
The SERPs is short for the search engine results pages, which are the pages that Google returns when a user enters a query.
Sequence
A sequence is a lead nurturing campaign that automatically turns off when a prospect replies so that your sales reps can engage directly in conversation with interested leads.
SLA
SLA stands for Service-Level Agreement, and in inbound marketing, it means a formal, documented agreement leveraged internally between a marketing and sales department. An SLA sets out expectations for sales and marketing alignment and normally contains descriptions for different levels of leads, like MQL and SQL.
Smart Content
Smart content, sometimes called "dynamic content," means content on your website, blog, email, or other inbound marketing asset that renders differently depending on the viewer. Inbound marketers set up conditions using marketing automation software that define the rules for displaying certain copy, images, or other digital elements. Smart content is used to provide a personalized approach to marketing and increase conversion rates.
Social Media Marketing
Social media marketing is leveraging social media networks to attract users into your inbound marketing funnel. Inbound marketers often use popular social media platforms like LinkedIn, Facebook, and Twitter to increase brand awareness and website traffic.
SSL
SSL stands for secure socket layer, and it's a security protocol for websites. For enhanced security, websites must purchase an SSL certificate, usually on an annual basis. An SSL certificate will result in an https site, which is an indicator to search engines that your site is secure. In October 2018, Google issued a known crackdown on websites without a valid SSL certificate.
Subject Matter Expert
A subject matter expert, or SME, is a business's internal expert on a topic covered by inbound marketing content. To create useful, unique, and engaging content for an inbound marketing program, marketers often rely on the expertise of a subject matter expert to develop content. Subject matter experts participate in the form of content interviews or written copy points to facilitate content creation.
Subject Line
A subject line is the text that appears in a user's email inbox and describes the intent of the email. A subject line should inform the recipient what the email is about and is a primary factor for an individual email's open rate.
Subscriber
A subscriber in inbound marketing means a lead who has subscribed to receive updates from your company, usually via your blog or email newsletter. This is a common deal stage designated by marketing and sales teams. Subscribers are generally considered less engaged than leads and have not yet downloaded a piece of content. Subscribers are part of a list and are eligible to receive mailings from your company.
Subdomain
A subdomain is a specially designated section of your website that is indicated by a prefix attached to your top-level domain. Subdomains are commonly used to host inbound marketing content or a blog. If your top-level domain is company.com, example subdomains might be blog.company.com or content.company.com.
SQL
SQL stands for sales-qualified lead, and it means a lead that has progressed beyond an MQL (marketing-qualified lead) and that has been accepted by the sales team as a viable lead. As a best practice, an SQL meets a specific definition that is laid out in an SLA.
Tag
A tag refers to a blog tag, and it's a categorization system for your blog to organize posts by topic. These tags improve user experience for visitors by making your content easily navigable. Using tags is also beneficial for search, as each tag created will generate its own unique web page.
Tech Stack
Your marketing and/or sales technology stack, or "tech stack," is the set of systems and software that you use across your marketing and sales teams. Your marketing tech stack includes your website CMS, marketing automation platform, analytics tools, email marketing tools, CRM, and more.
Template
A design template or template is a file that has been created with an overall layout or design with a format to be used for a group of digital marketing assets. Inbound marketing templates exist for website pages, landing pages, emails, forms, CTAs, and more. Templates can save your marketing team or agency considerable development time.
Time-on-Site
Time-on-site, sometimes referred to as "dwell time," is a metric that is indicative of user engagement on your website. Time-on-site measures a user's total time spent browsing the pages of your website. Users who leave right away, within a couple of seconds, are considered a bounce.
Time-on-Page
Time-on-page is a metric that provides insight as to user engagement. It is similar to time-on-site, but at a more specific page-level.
Tracking Code
A tracking code is a snippet of HTML code that is added to the header or footer tags of a website in order to get analytics reporting through a third party, like Google Analytics or HubSpot. Installing a tracking code is necessary to connect your website data to an analytics application.
Tracking URL
A tracking URL is a special website URL that is generated for reporting purposes. With a tracking URL, a new, unique web address is generated for a page that allows you to track exactly where visits and conversions come from. For example, if 10 members of your team share your latest blog post on LinkedIn, unique tracking URLs would allow your marketing team to identify which team member's post brought in visits.
UX
UX stands for user experience, and it means focusing on a user's experience with your brand, from first-touch to post-sale. UX is a specialized discipline in marketing and should be incorporated into most major marketing decisions. Search engines place considerable and growing emphasis on a user's experience in their ranking algorithm.
Vanity Metrics
Vanity metrics are metrics that may appear important on first glance, but that are actually not really relevant or important to your bottom line. Since inbound marketing is very ROI-focused, efforts are made to disregard unimportant vanity metrics that arise throughout campaigns.
Video Marketing
Video marketing means the strategic use of video as part of an inbound marketing program. Video can be used throughout your inbound marketing assets and in your sales process to attract and engage visitors, convert leads, and nurture prospects. Videos make great additions to website pages, emails, blogs, and social media campaigns. Video is also extremely helpful to engage your target audience and increase key engagement metrics like time-on-site and time-on-page.
Workflow
A workflow is a series of automated emails or other tasks in your marketing automation system. A workflow can consist of actions or triggers inside or outside of your organization. Workflows are used to automate common, repeatable tasks like lead nurturing emails or assignment of sales reps to accounts.
What other inbound marketing terms would you add to the list? Leave a comment and let us know.