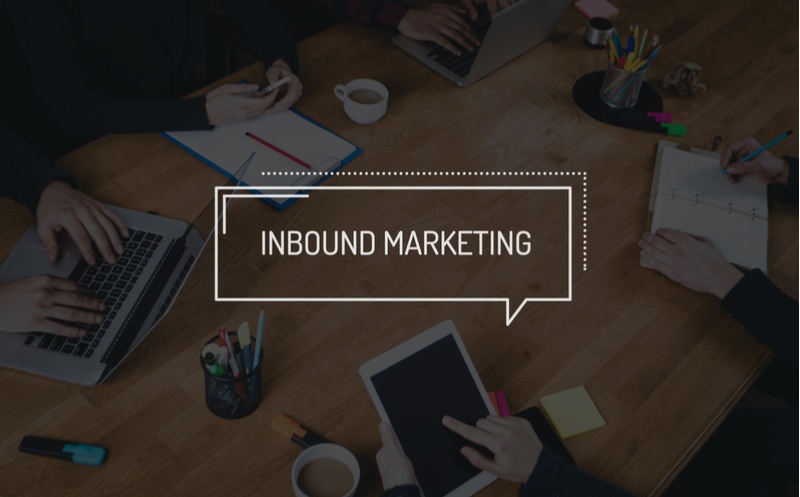 Inbound marketing is a tremendously effective, modern way of generating leads and customers for many companies across the world.
Unlike outbound marketing, with inbound marketing, you don't need to fight for your potential customers' attention. By creating content designed to address the problems and needs of your ideal customers, you attract qualified prospects and build trust and credibility for your business.
One of the most fundamentally important elements of an inbound marketing campaign is the content offer. A content offer is a foundational piece of an inbound program that works to attract interest, convert interested users into leads, and nurture leads into sales opportunities.
Many companies understand the enormous potential of an inbound approach for their company, but they're not sure what elements are necessary to create successful, lead-generating inbound marketing content.
Here are all of the key pieces you need to include in an inbound marketing content offer, why they're important, and how to create them in order to generate successful lead generation results.
Target Persona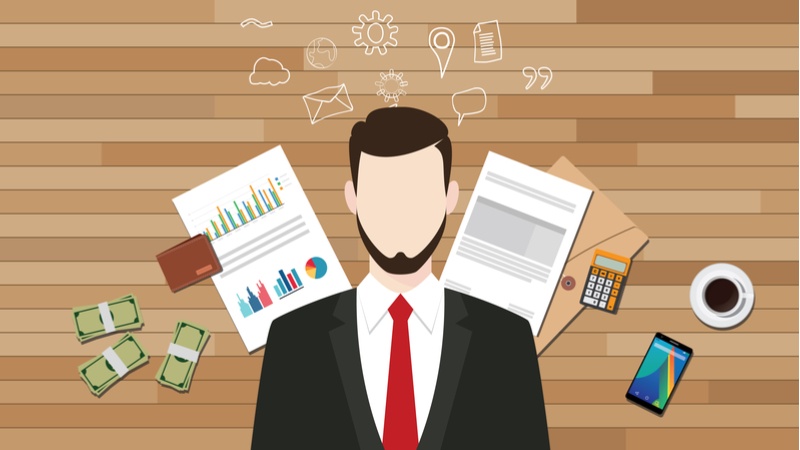 In order to be successful in any inbound marketing content effort, you need to have a clear and defined idea of who you are trying to reach. To accomplish this, develop target personas for your inbound program. Target personas are semi-fictitious representations of your ideal customers. Include demographic, psychographic, and behavioral characteristics of the types of people you want to attract to your company.
Here's a super-helpful resource on how to create target personas for your business.
Content Strategy
Developing a single piece of content in isolation is not a very effective inbound marketing strategy. Instead, take the time to build out a strategic plan for content creation in your organization.
Use a simple spreadsheet, and include target keywords, topics, a mix of long- and short-form tactics, and offers for every stage of the buyer's journey. Create a content strategy for each of your target personas to ensure that you have pieces in place for all stages of each persona's path to purchasing your product or solution. Link the various pieces of your content strategy together for maximum impact.
Designated Subject Matter Expert
You'll need someone with expertise on your topic-of-choice to provide an intelligent perspective on the subject. This individual is known as a subject matter expert. Get a subject matter expert involved and assigned to your offer. Have your subject matter expert provide some copy points, or conduct an interview to get some information, then use a copywriter to develop the information into your content offer.
Offer
The base of your inbound marketing content campaign is a downloadable content offer that is valuable and interesting enough to your target audience that they'll want to download it.
Every type of content asset has its own set of best practices, which we'll cover another day. Here are some general best practices for creating your content offer:
Make it visual - make your content offer appealing to your target audience by including design elements - photos, icons, directional cues, branding, etc.
Use headings, sub-headings and bulleted lists so readers can easily skim the material
Include a secondary CTA at the end of the offer - what should the reader do now that they've read the piece?
Include relevant links back to your website and other content
Landing Page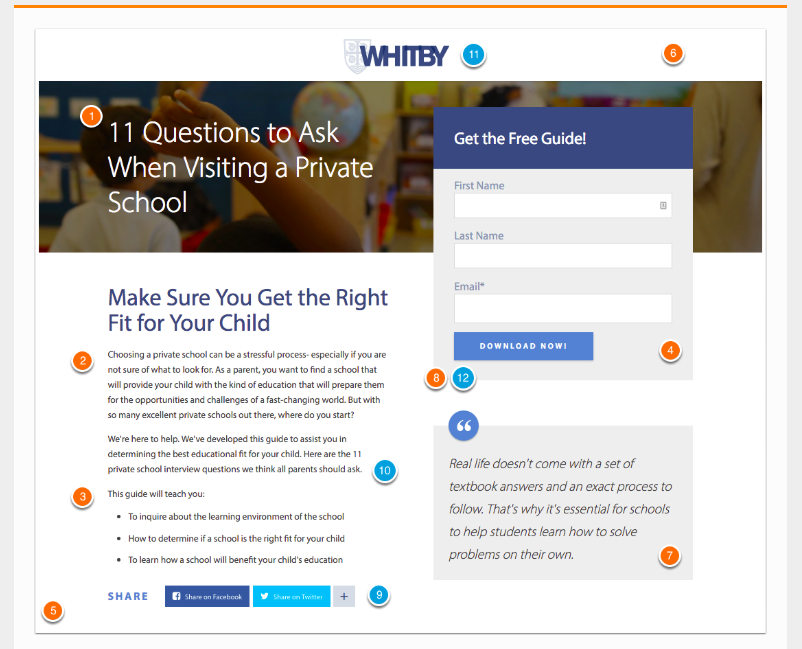 Image credit: HubSpot
A landing page is a critical element of any inbound marketing content campaign. Your landing page is extremely important because this is where a website visitor has the opportunity to convert into a lead and enter your marketing automation database for the first time.
You'll need a landing page template to get started. Luckily, you can get ahold of a nicely designed landing page on HubSpot even with no development experience at all, by using their template library. The template library includes plenty of free and paid options for landing page templates. Or, if you want a more customized feel and have access to more sophisticated developers, you can create any template you want using HubSpot.
Landing pages as part of an inbound marketing campaign make conversion the top priority.
Keep in mind these best practices when developing your landing pages:
Remove the user's navigation to keep them focused on the conversion point
Use bulleted lists to showcase the advantages of completing the form
Include a form
Align the headline and supporting copy with the CTAs you are using
Include a photo of the cover of your offer so users know what to expect
Include social sharing
Form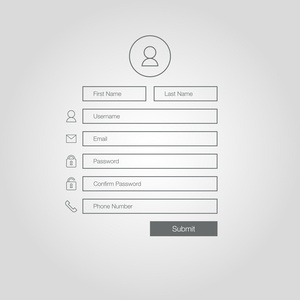 Your landing page needs to include a form where a user can submit their information in exchange for your piece of content. Completing the form is the conversion that transforms an anonymous website visitor into a lead that you can now actively market to using marketing automation.
When building your form, keep in mind that the more form fields you require, the lower your conversation rate will be, in general. Too many form fields, especially early in the funnel, can be a big friction point for website visitors. Be careful to request or require only those fields that are necessary for your team at this point in time and for this type of offer. If your content offer is a top-of-the-funnel, awareness-stage piece, include only minimal form fields, like first name, last name, and email address. If your content offer is a middle-of-the-funnel or bottom-of-the-funnel piece, then it may make more sense to include more fields, like a place for job title or industry.
When building your forms, also keep in mind:
Use drop-down form fields over open-text fields for easier segmentation in your marketing automation platform.
Consider using progressive profiling to collect additional information on leads who are already in your database.
Modify your "submit" button text to align with the specific offer you're promoting.
Consider including help text to facilitate completion of your form.
Confirmation Page
When your user converts on your form, you'll want to direct the user to a confirmation page to accomplish a few post-conversion goals:
Confirm the submission
Thank the user
Explain what happens next - either make the offer available on this page via direct download, or use a delivery email (below) to connect your lead with the content they've requested.
Return the user's navigation
Provide a secondary CTA - what is the next step you want the user to take?
Delivery Email
Sending a delivery email (an email that delivers the piece of content to the lead) is a best practice for a couple of reasons. First, it provides a good user experience because your lead will now have access to the content from their email inbox, should they want to reference it in the future or even forward it along to a colleague. Secondly, a delivery email increases a lead's engagement with your brand.
Use an automated workflow in your marketing automation platform to set up the delivery email. Keep the email short and sweet, and be very clear in your subject line as to why the person is receiving the email. Include an image of the cover in the email to remind the user why they are receiving it.
Lead Nurturing Campaign
Your top- and middle-of-the-funnel offers should trigger a lead's enrollment in a strategic lead nurturing campaign that is designed to move the lead through his or her buyer's journey. As far as you, the inbound marketer, are concerned, the lead's initial download of your content offer is just the beginning. What comes next, in the form of a strategic lead nurturing campaign, is extremely important to warm up your lead and move them through the funnel.
CTA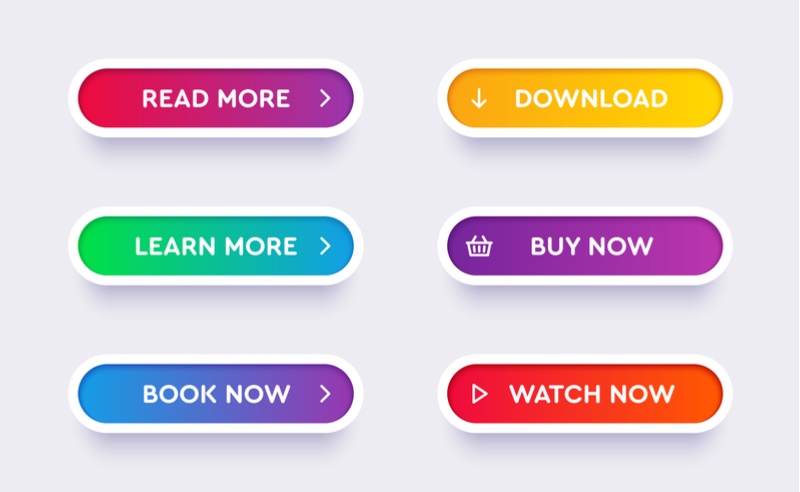 CTA is an abbreviation for "call-to-action," and it means a button or banner that prompts action from a website user, such as "Subscribe Now" or "Learn More" or "Download the E-Book." Create CTAs for your offer that you can place throughout your marketing assets, like relevant website pages, at the conclusion of your blog posts, in your emails, in your social media posts, and more.
Use action-oriented language
Incorporate directional cues
Use colors that stand out on your website pages and blogs
Use images that align with your brand and the offer you're promoting.
Use language that is mirrored on the landing page. The more closely your CTA and landing page are aligned, the higher your landing page conversion rate will be.
Create all of the elements above as part of a comprehensive inbound marketing offer, and repeat this cycle for each of your buyer personas and stages of the funnel. Before you know it, you'll have a robust, comprehensive inbound marketing program generating high-quality leads for your company.