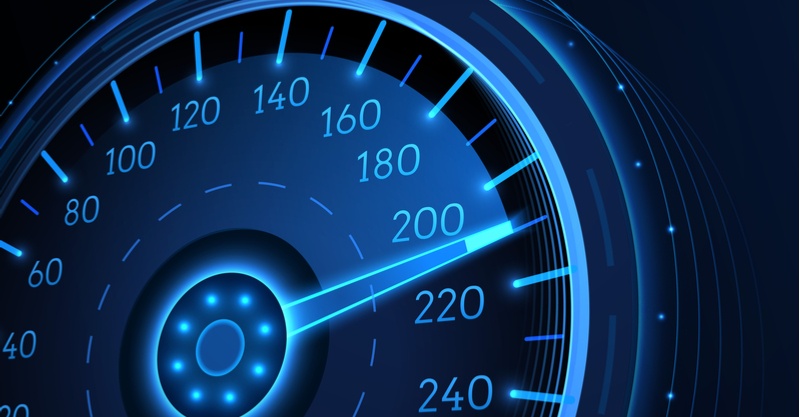 The world's most popular marketing automation platform, HubSpot, is primarily known for its ability to help marketing teams, but there are so many powerful facets of the software that are designed to supercharge sales for your company.
Many sales leaders are cautiously optimistic about marketing automation software like HubSpot, but they're just not sure how the technology applies to them.
HubSpot includes a full set of sales productivity tools that help streamline and speed up your sales process. These technology tools allow sales teams to spend more time selling, shortening average sales cycles and increasing sales team happiness. Let's take a look at some of the top tools helping sales teams fuel performance.
HubSpot Templates and Snippets for Sales Hub

HubSpot's email tools are extremely powerful when it comes to streamlining your sales process and closing more customers. Not only can automation handle repetitive tasks such as assigning/requesting quotes from the billing department or alerting you when a customer order ships/is delivered, but you can also streamline email follow-up using templates, sequences and personalization tokens, and snippets.
Email Templates in Sales Hub
Easy, nice-looking email templates let you turn your most effective and sales emails into templates that your team can access from inside their inboxes and even share team-wide. These streamlined templates save a ton of time and brainpower when reaching out to leads and sales opportunities.
HubSpot Email Snippets
Within your emails and email templates, you can use another HubSpot tool, called snippets. Snippets are short, reusable text blocks that can be used on contact, company, and deal records; in email templates; and in chat conversations. You can use snippets to leave notes about prospects in the CRM, streamline the process of writing sales emails, or use canned responses in live chats. The result is a more productive and satisfied team that spends more time closing deals.
Some interesting use cases for snippets:
Create vertical-specific snippets with relevant industry content and language that appeals to a specific target persona.
Create trade show-specific snippets to streamline follow-up after an industry event.
Create content-specific snippets to save time when promoting a new piece of marketing or sales content.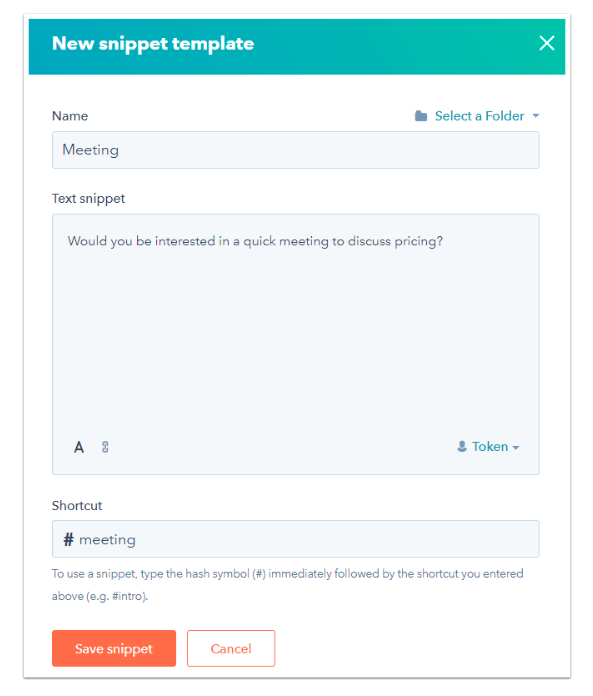 Scheduled Emails
HubSpot lets you schedule emails to go out at a specified date and time, or use machine learning to deliver emails to prospects when they're most likely to engage. You can blast broader marketing emails based on each recipient's time zone to optimize your open rates.
Email Tracking + Monitoring
Finally, HubSpot's email tracking and monitoring, which works directly with your inbox, notifies you instantly when someone opens an email, clicks a link, or downloads an attachment.
This information is hugely valuable to sales teams. Email monitoring allows you to know whether a prospect opens an email - whether it's a cold outreach, a follow-up, an email about a meeting, or a proposal. This information is kept within HubSpot so your team can access it at any point in the future.
HubSpot Meetings Tool
Meetings is HubSpot's free appointment and meeting scheduling app. Meetings lets you skip the annoying back-and-forth emails trying to find a time for call. Schedule your meetings and appointments faster helps skyrocket the productivity of your sales team.
Meetings syncs to your Google or Office 365 calendar, so prospects can always see your most up-to-date availability. When you let prospects automatically schedule meetings with HubSpot meetings, you'll save hours of time spent on unnecessary emails.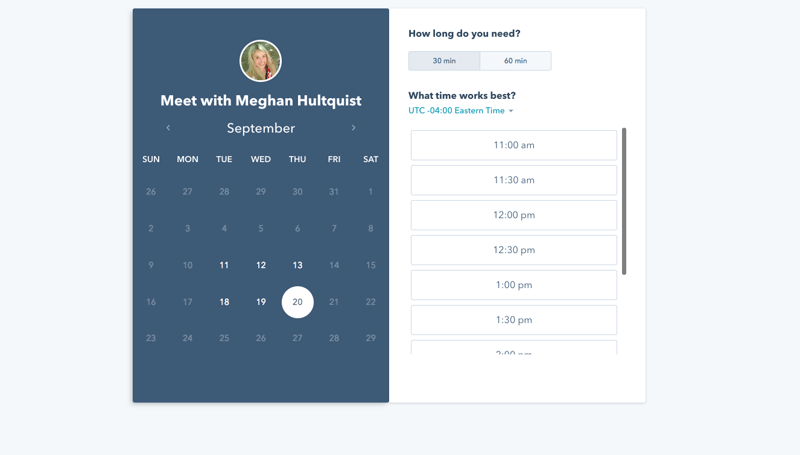 Meetings provides options even beyond one-on-one meetings. You can use it to send group meeting links that will allow prospects to schedule time with more than one person in your organization. If you don't have a designated sales rep, you can use the round-robin feature so prospects can schedule a meeting with the sales rep whose availability works best for their schedule. You can even embed meeting links on your site, and now scheduling appointments with HubSpot Meetings is convenient for all.
As prospects schedule meetings, HubSpot automatically creates records for new people, which means you're organizing and growing your database just by scheduling meetings.
Test it out here: https://meetings.hubspot.com/meghan24
HubSpot Sales Documents and Document Tracking
Ever wonder if your prospect opened that case study you sent them? Or if your hot opportunity is carefully reviewing the quote you sent over? Documents provides tracking metrics and insights for your email attachments. Similar to an email reporting tool, it allows you to see the time of day and frequency of attachment opens and clicks.
You can also set alerts to stay informed of your prospects actions and engagement. Knowing this information can help your sales team be more effective with the timing of their follow up. Give contacts that haven't opened the attachment a few more days before reaching back out or call your lead right when they are thinking about you.
Lead and Contact Intelligence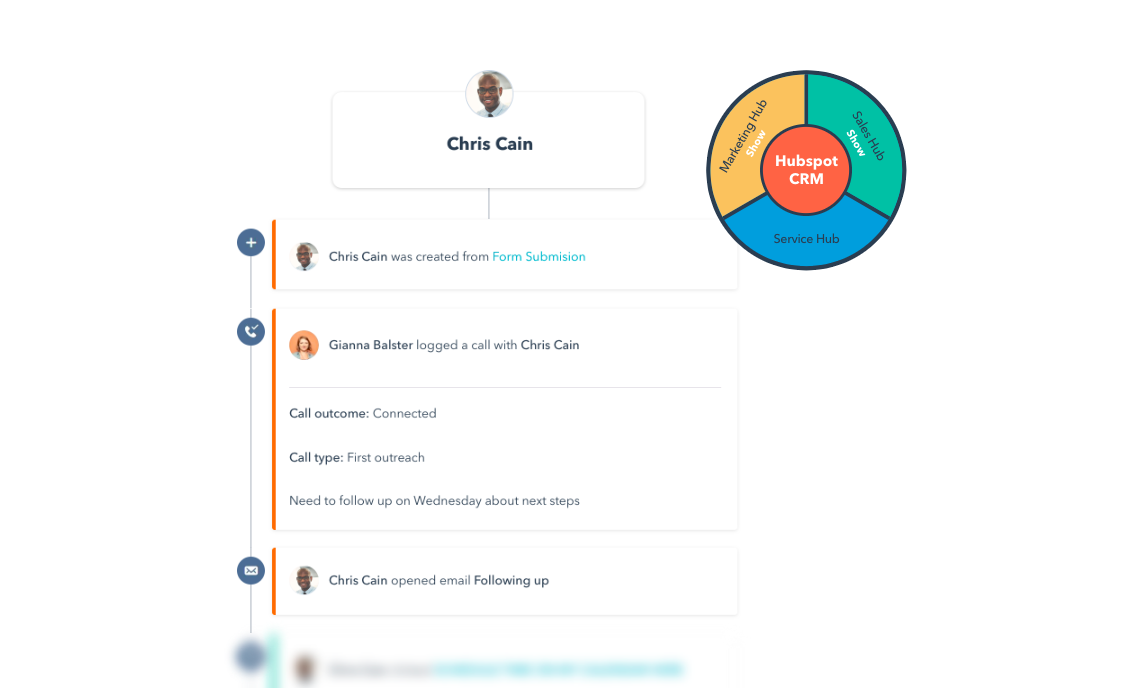 Contact record - HubSpot's suite of marketing and sales tools includes many valuable lead intelligence tools. The lead contact record gives you real-time data on your

prospects' interaction history with your website, sales team, and brand.
Lead intelligence tool - Nothing frustrates a sales team like wasted time. With HubSpot's lead intelligence tool, your sales team can instantly evaluate whether a prospect is a good fit for your organization and worth pursuing.
Prospects report - automate and send weekly or monthly. Get a list of companies who have viewed your website, including how many users from within the company and how many pages have been viewed.
Want to learn more about how to leverage marketing automation as your sales team's secret weapon? Download Strategy Blueprint: How to Use Marketing Automation as a Sales Tool to discover how to leverage the incredible lead- and revenue-generating power of marketing automation.