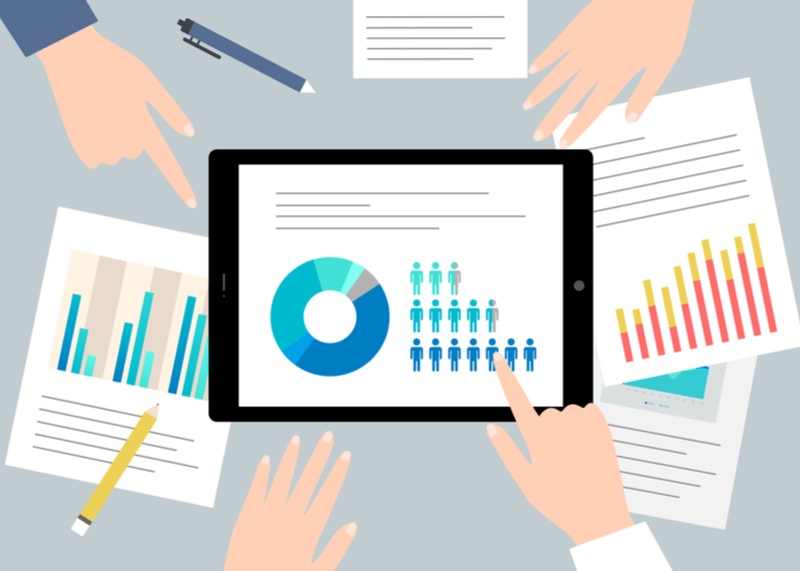 A clearly defined and organized sales plan is the perfect launchpad for success if you want to crush your 2019 growth goals.
The most challenging aspect of developing a sales plan is often just figuring out how to get started. So here's a nine-step formula to create a 2019 sales plan that will get you organized, ready, and excited for the coming year.
Step 1: Decide who's involved
An annual sales plan is rarely a one-person job. Decide up front who from your team will be involved and who will have input into your 2019 sales plan. Make sure all stakeholders, participants, and partners are aware of their involvement and that they're aligned on key strategic items from the time you start building your plan.
Document everyone who will be involved in the creation, revision, approval, and execution of your sales plan within the plan itself. Include each team member's name, title, and any relevant notes about their responsibilities with regard to the plan.
Step 2: List your top 3-5 sales priorities
Define and document your top three to five sales priorities for the year. These priorities should be general goals for your sales team in the upcoming year, and each priority should be directly tied to revenue generation.
If you have specific numerical goals in mind or established, include them here, but don't let a lack of specific numbers hold you back at this stage. What's important is that you document your goals at a high level so that you can build a step-by-step plan to achieve them.
Here are some examples of priorities to include in your sales plan:
Grow user base to 10K
Move from project-based work to monthly retainers
Grow existing retainer accounts
Land 35 new financial services accounts
Land 10 anchor accounts
Upsell/cross-sell existing customer base
Grow sales team to 50 reps
Step 3: Describe who you want to sell to
It's important to agree upon and document your target customers as part of your sales plan. Create one to two paragraphs describing who you want to sell to so you hit your goals. Consider who you currently sell to and your ideal customers.
In this section, identify both your target persona and your ideal customer profile.
Target Persona - A semi-fictitious representation of your ideal customer, including key demographic and behavioral information.
Ideal Customer Profile (ICP) - The type of company you're targeting. For example: midsize technology companies in North America.
Do your best, and don't let the lack of a laser-focused persona or ideal buyer profile deter you from putting together the rest of your sales plan. Start with something here, but also recognize that over time you are going to refine your plan, including this section.
Step 4: Define your sales goals
In the next section, define your sales goals for the next 12 months. Include the following:
Number of deals you'll need to close
Average engagement size
Number of new projects
Average project size
Any other pertinent revenue streams you feel should be included
Step 5: Write down your approach
Write one to three paragraphs that describe what your approach will be to accomplishing your top three to five priorities. Include a section for "what we'll do" and a separate section for "how we'll do it."
In "what we'll do," describe the specific actions your team will take. Do you need to rent or purchase a list? Attend industry trade shows or conferences? Make cold calls? Write down the activities that will get you to your goals. You can be general here for now. You'll outline specific action items to complete these activities in Step 8.
Under "how we'll do it," start thinking about the resources and budget you have at your disposal, including current and future technology systems. In this section, include what major tasks should be managed internally versus those that should be outsourced.
Step 6: Add key metrics
In this section, get specific about the key metrics you'll need to track and hit when it comes to accomplishing your sales goals that you set out in Step 2. How many exploratory calls do you need to schedule per month? How many sales presentations?
For example, to produce one retainer deal, it is typical to have:
Targeted at least 60 leads

Run 10-12 exploratory calls

Run four goal-setting and planning calls

Run two final presentations
Work backward from your sales goals to define these key metrics. Interview members of your sales team as necessary to fill in any gaps you run into when calculating your conversion rates at different stages of your sales pipeline.
Step 7: Document 30-, 60-, and 90-day milestones
Include a set of key milestones that your sales organization can work toward within a 30-day, 60-day, and 90-day period on your way to achieving your annual goals.
Here are some examples:
30-day milestone: Develop a prospecting plan; identify industry trade shows
60-day milestone: Select target accounts; create upsell/renewal plan
90-day milestone: Launch healthcare campaign; attend first 2019 trade show
Step 8: Create an action plan
Now, take what you've documented above and boil these goals down into actionable tasks with established due dates and assigned roles.
List your tasks in order, and don't worry about assigning the tasks until you've made your list. After you have your list together and everyone is in agreement on the necessary steps to accomplish your goals, then assign the tasks to members of your team.
Your finished action plan should look something like this:
| | | | |
| --- | --- | --- | --- |
| # | Action | Assignee | Due Date |
| 1. | Develop target account selection criteria | Jack | 1/15 |
| 2. | Develop content strategy for target accounts | Jenna | 1/31 |
| 3. | Create campaign content | Kyle | 2/15 |
| 4. | Select 200 target accounts | Jack | 2/15 |
| 5. | Execute campaign | Jenna | 3/1 |
Step 9: Review, revise, and refine
Treat your sales plan as a living, agile document that you reference and return to often. Meet weekly to get regular, rhythmic updates from your whole team on how they're tracking toward their goals. Be sure to note any upcoming due dates or deadlines listed in your plan. As a sales leader, focus on identifying and breaking down impediments your sales team faces as they execute the plan.
As you gain insight into how your team is progressing, make adjustments to your plan and optimize it to help you hit your goals. Use the data your team provides to inform your decision-making and fine-tune your plan as the year progresses.
Get started now building a sales plan that will make 2019 your best year ever. Click below to download your free 2019 sales planning worksheet now.