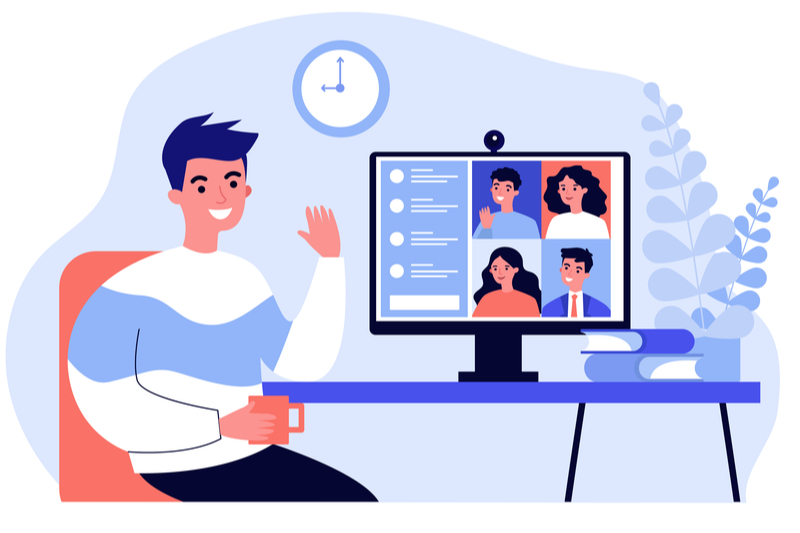 So….2020 probably isn't going quite as you'd planned. The COVID-19 pandemic has completely upended our way of life and caused massive disruption in nearly every industry and business.
For marketing and sales teams, this means, among other things, that in-person lead generation activities, like trade shows, conferences, and networking events, are canceled for the foreseeable future.
Thousands of companies are struggling to figure out what to do next. Many B2B companies rely heavily upon in-person events to generate leads, and the COVID-19 crisis has created an alarming gap.
As your organization pivots or prepares for reentry, your marketing and sales teams will need to hyper-focus on generating a steady stream of qualified leads to make up for lost time and events. Here's where we recommend you reallocate your time, energy, and marketing budget to generate leads during the pandemic.
1. Webinars
It's time to fully embrace the powerful lead generation potential of webinars. Webinars have been a steadily rising favorite of digital marketers for years, and the pandemic has expedited demand in an unprecedented way.
Webinars are fantastic because they appeal to prospects at all stages of the buyer's journey, from very top-of-funnel educational topics to post-purchase customer demos.
To start, you'll need a compelling topic that solves a problem for your target audience and a subject matter expert inside of your organization that is willing to share their expertise and thought leadership. You'll also need a webinar hosting platform, like GoToWebinar or Zoom, to manage registrations and reminders.
Allow yourself an ample runway, usually at least four weeks' time, to promote your webinar. Promote it across all of your digital marketing channels - blogs, emails, website pages, and social media. You can boost registrations even more with a paid social media campaign.
Be sure to record the webinar so that you can transform it into an on-demand, evergreen offering. This allows your webinar to continue to generate leads for you long after the presentation is finished. As a best practice, you should send the recording to everyone who's registered for the webinar, regardless of whether they actually attended. Keep in mind that only about half of all registrants will attend your webinar live, and you don't want to punish those who have a scheduling conflict.
To get even greater return on investment (ROI) from your webinar, break apart the finished presentation to create a cluster of related, repurposed content in various formats. You can turn slides into infographics, checklists, how-to guides, blog posts, and more.
2. Retargeting
Retargeting is a sophisticated and savvy way to engage leads who have already indicated an interest in your brand by visiting your website. Retargeting campaigns serve up ads to your past website visitors as they scroll through their social media feeds or browse the internet.
These retargeting campaigns run on social media networks or through a network of related websites, such as the Google Display Network. Your brand's ads are displayed to users as they consume social and web content throughout their day-to-day life.
Retargeting is so effective because it targets a group of people who have already expressed an interest in your brand. Retargeting ads create an additional touch point, build brand awareness, and foster trust.
Use retargeting to drive users to relevant, conversion-optimized landing pages on your website. Align your landing pages and offerings to your target audience and their buyer's journey. To start, we typically recommend launching retargeting campaigns for a top-of-funnel and bottom-of-funnel offer simultaneously.
Pixel-based retargeting campaigns serve up your ads to your past website visitors, even if they've never filled out a form. You can also use list-based retargeting campaigns, which display your ads to any segment of your CRM or database that you select.
For example, you might want to target a list of:
Contacts who have visited your pricing page
Contacts who have visited your website at least twice
Contacts who you met at a trade show last year
Contacts in a specific geography
Contacts who read your latest blog post
Using list-based retargeting allows you to fine-tune the messaging in your ads and on your landing pages based on what you know about your audience.
3. Social Media
Social media usage is surging during the pandemic, and brands are flocking to social networks like LinkedIn, Facebook, YouTube, and Instagram to meet their prospective buyers where they spend their time online.
Social media marketing falls into two major categories: organic (non-paid), and paid social media advertising. Good organic social media marketing means being a good listener online and engaging with your audience and your industry. Companies that excel in organic social media share a healthy mix of their own content and content from others, always showcasing thought leadership and a sophisticated understanding of their industry.
Paid social media advertising gives brands an even better opportunity to generate leads. Social media ad campaigns allow marketers to be incredibly selective in their audience targeting. Marketers build campaigns based on demographic data known about the social media network's members, such as:
Job title
Experience level
Company size
Hobbies and interests
Marketers select their target audience, what content they want to display, and the campaign budget. Some networks allow you to set daily, weekly, monthly, and total campaign budgets. Social media ad campaigns use two primary pricing models: cost-per-impression (you're charged each time your ad is viewed in a newsfeed, regardless of whether someone engages), and cost-per-click (you're only charged when someone actually clicks on your ad).
To generate leads, social media ads direct users to an ad-specific landing page on your website that is gated by a form. Alternatively, some social media platforms, like Facebook and LinkedIn, allow you to convert leads within the ad itself, allowing users to convert without ever having to leave the social platform. This type of social media advertising tends to have low friction and high conversion rates.
Whether organic or paid, social media has the potential to return results quickly, within a matter of days or weeks, as long as you're offering something valuable.
4. Inbound Marketing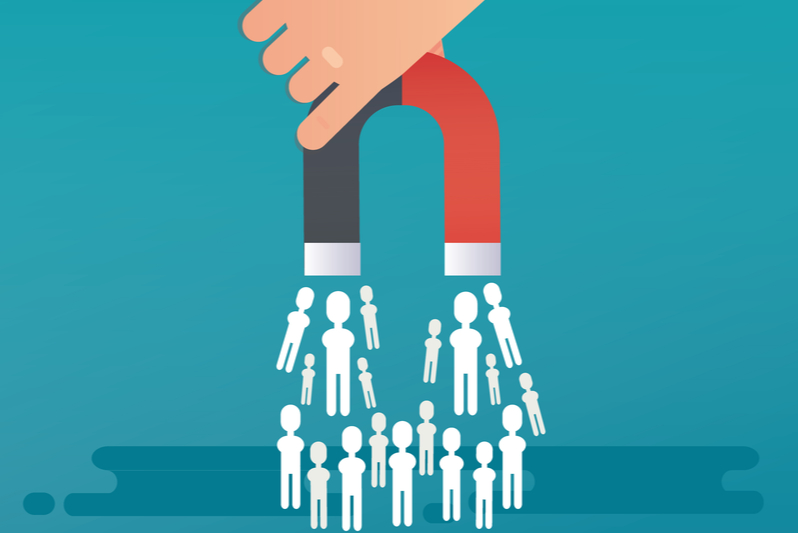 The coronavirus pandemic has slowed many parts of the economy to a near standstill, which means sales cycles are getting longer and buying decisions are growing more complex.
Meanwhile, people are spending a lot more time online, which means a swell in top-of-funnel user activity. Many prospective buyers are conducting very early educational research so that they're poised to make good decisions once the economy starts to improve.
Inbound marketing is the strategic process of attracting and converting leads via your website, blog, and other digital channels. It's perfect for long, complex sales cycles and does a particularly good job generating top-of-funnel leads. Inbound marketing works by creating content that is aimed at target personas and mapped to the buyer's journey. When your content provides valuable answers and solutions, buyers view your organization as a trusted resource that can help them.
Effective inbound marketing pairs traffic-boosting tactics, like blogs and emails, with conversion-focused content, like webinars and whitepapers, to generate a steady stream of leads. Once leads convert via a form, automated lead nurturing campaigns keep leads engaged until they are ready to talk to sales.
Inbound marketing yields tremendously powerful, continuously improving results over time, but it's important to know that an effective program will take at least 60-90 days to start seeing results.
5. Lead Scoring
It's never been more important to prioritize the leads in your database who are most likely to purchase. Lead scoring gives you a tool to do exactly that.
Lead scoring is an automated ranking system of leads in your database designed to help marketing teams identify the hottest leads for sales. Your scoring system assigns points based on (1) demographic data known about the lead (job title, industry, etc.); and (2) the lead's interaction with your brand's digital assets (website visits, blog views, email opens, etc.).
Lead scoring models require a joint effort across your marketing and sales organizations. Models can range from extremely simple to very sophisticated and complex.
6. Lead Nurturing
In a perfect world, all of the leads you generate would be ready to buy today. But that's not reality, particularly during a pandemic.
You'll need a way to keep leads warm and engaged with your brand. When a lead does become ready to buy or at least engage in a sales conversation, your brand should be top-of-mind to help them solve the business challenge they're struggling with.
Enter lead nurturing - a series of automated emails designed to keep users engaged until they are ready to buy. Lead nurturing can be part of a more comprehensive digital marketing strategy like inbound or account-based marketing (ABM), or it can run as a standalone campaign.
To get started, select a segment you want to focus on, such as current customers or contacts who converted on a particular ad. Then, design a strategy around a cluster of helpful, related content that answers your leads' questions and solves their problems. Tie your emails and the assets they promote to your lead scoring model for instant visibility into which leads are most highly engaged with your brand.
Monitor your lead nurturing campaign metrics closely to understand what's working and what's not. Make adjustments to your strategy accordingly. To improve open rates, experiment with subject lines, preview text, and sender details. To boost click-through rates, focus on succinct, skimmable copy with one clear call-to-action per email.
7. Conversion Rate Optimization
Conversion rate optimization, or CRO, is the scientific practice of strategically tweaking your website to increase your conversion rate and generate more leads. CRO combines principles of behavioral psychology with user experience best practices to make a website more appealing to potential customers.
Using CRO, marketers remove or minimize "friction" that gets in the way of users converting on a site. Friction usually results when users feel confusion, frustration, or uncertainty, which all happen to be relatively common mental states during the pandemic.
To reduce friction on your website, try:
Eliminating unnecessary fields on your forms
Including one clear call-to-action on every page
Removing the navigation on your landing pages
Spelling out in text what action you want users to take on each page
Using directional cues like arrows or boxes to help users understand what to do next
CRO is a hypothesis-based, experimental approach that requires careful testing and observation to work effectively. When executed meticulously, the result is a steadily improving website conversion rate over time. It's a great approach for brands that are looking to make the most of the digital marketing assets they already have, and it can produce a big impact in a short amount of time.
The coronavirus pandemic means a massive shift for nearly everyone. For marketing and sales teams, a lack of trade shows and other in-person events need not throw you into a panic. Instead, investigate any of these tried-and-true digital marketing tactics to pivot your lead generation strategy and get your organization back on track.
Looking for even more ways to boost lead generation for your company? Download our free checklist to get easy-to-implement ideas guaranteed to increase leads from your blog within a few months' time. Click below to get your free copy now.