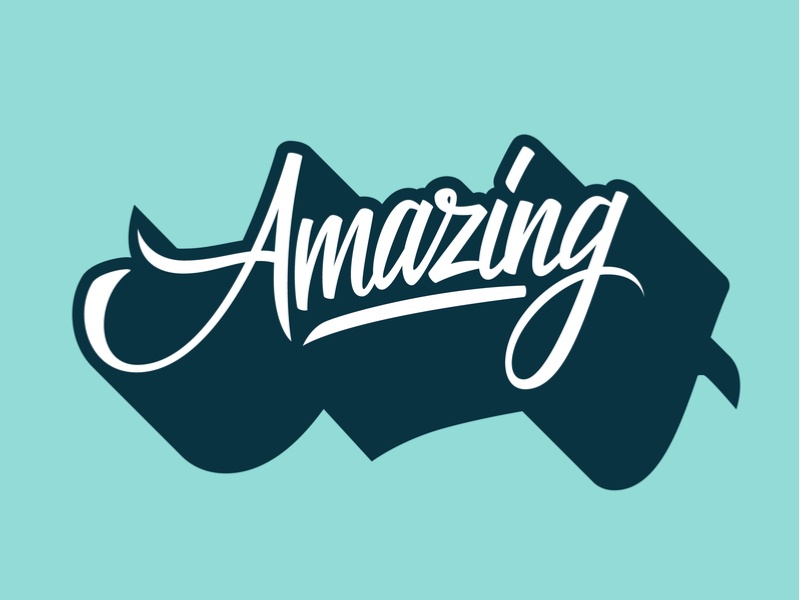 Today's best marketing teams have an innovative mindset - constantly testing, integrating, and optimizing new technologies into their marketing tech stacks for continually better results over time.
Indeed, the right marketing technology tools can be the difference between lackluster and amazing results. Fortunately, having an awesome tech stack doesn't have to cost a fortune. In fact, there are hundreds of tools that can make you a more amazing marketer without costing you a penny.
There are currently over 6,800 marketing technology tools available to businesses that are designed to streamline almost any facet of marketing you can think of. True success, of course, comes from selecting, understanding, and maximizing the right set of tools for your marketing team, your goals, and your budget.
Start making your marketing efforts even more amazing with this list of free tools.
1. Website Grader
HubSpot's free website grader provides marketing teams with a report of findings based on the website entered. Grades are assigned to various categories and explained thoroughly in the detailed report.
Website grader gives you a great starting point from which to build a website optimization plan. The website grader helps solve the feeling of being overwhelmed when it comes to improving your website. By providing you with insights and areas of focus, you're left with a road map to better website performance.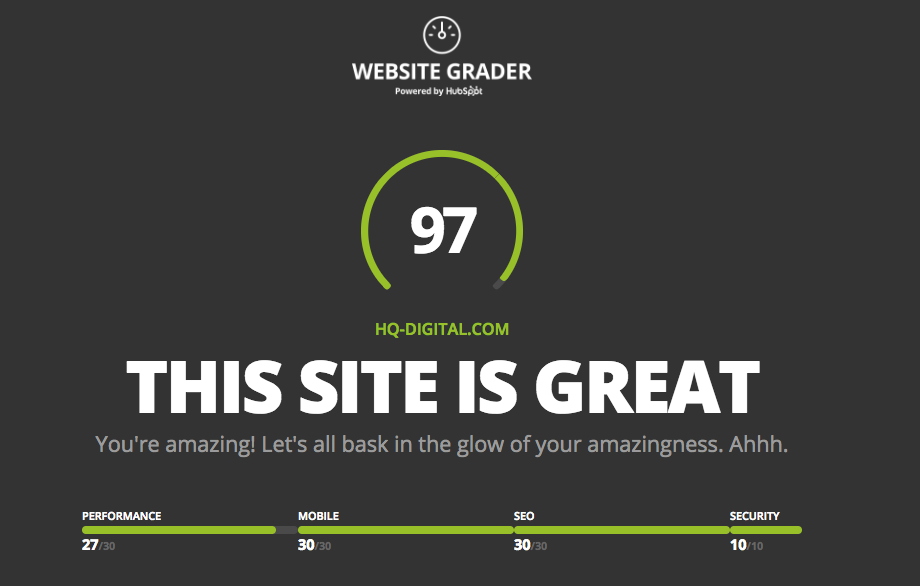 Awww, thanks, Website Grader! We think you're pretty amazing, too.
2. Google Analytics + Search Console
We combined these two free tools from Google into one because we're assuming most marketers are already taking advantage of Google Analytics, widely known as the most accurate and comprehensive set of website analytics available. To start leveraging it, all you need to do is create an account and add a snippet of HTML tracking code to the header or footer tag of your website.
Google Analytics helps marketers reveal and investigate priceless data behind their website and its visitors. Users can view real-time audience data on location, entrance and exit pages, time-on-site, and more.
Google Search Console is a free Google application that provides marketers with insight into keyword data related to their website. Search console allows you to see the exact keywords, queries, or phrases that users are entering into Google to find your website. Search Console connects easily with Google Analytics to give you a fuller picture of your website data all in one place.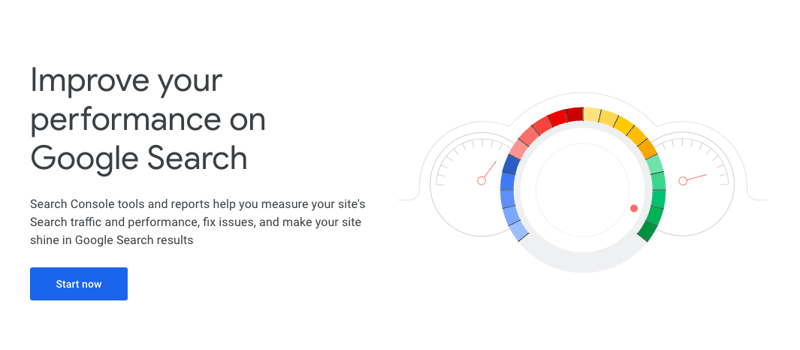 3. HubSpot CRM
HubSpot CRM is an easy-to-use, cloud-based customer relationship management software system. Users create deals and drag them across various deal stages toward close. The results are organized, optimized, and aligned marketing and sales teams that generate better leads and more revenue.
If you're not currently using a CRM platform, or if you think you might benefit from a better-fit system, give HubSpot CRM a try. It's easy and completely free to use for your organization.
4. Blog Topic Generator
If you ever find yourself with writer's block when it comes to generating new ideas for your blog posts, you'll love this free blog topic generator. Users enter primary and supporting topics, and a recommendations engine puts together a set of popular headline formulas to get your ideas going. Great for any size marketing team that is feeling in a bit of a creativity rut.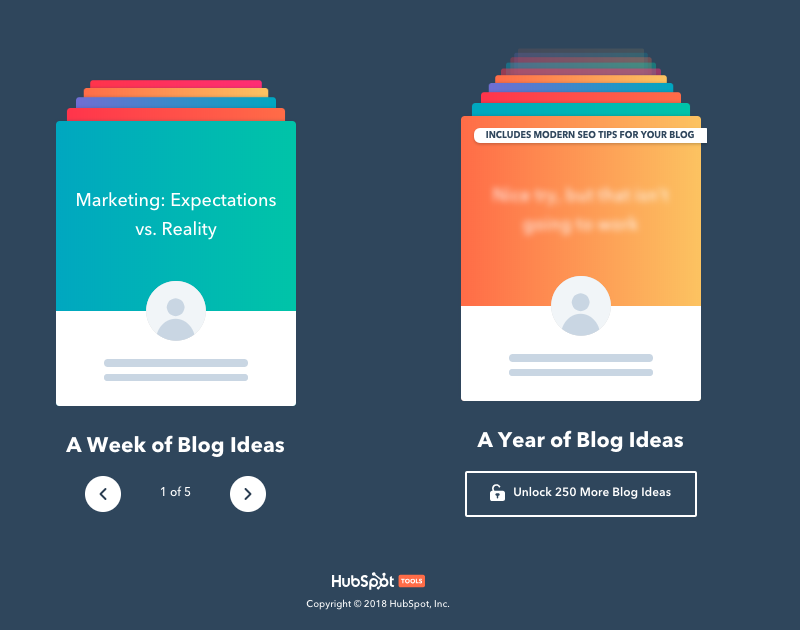 5. Hemmingway
Hemmingway is a useful, clever tool that lets marketers evaluate the succinctness of their marketing copy, just like Ernest Hemmingway's preferred style of prose. Since marketing copy should always be concise and straightforward, the tool comes in extremely handy.
6. Canva
Canva is an amazing, easy-to-use graphic design tool that fosters creative design work for both professional designers and non-designers. Users can select from a variety of formats (blog post, Facebook post, etc.), fonts, icons, shapes, and more. Users can also upload and add your own designs or logo, and everything is very customizable. Canva is free, but certain premium backgrounds, images, and other elements are pay-by-the-item, usually for around $1 a piece.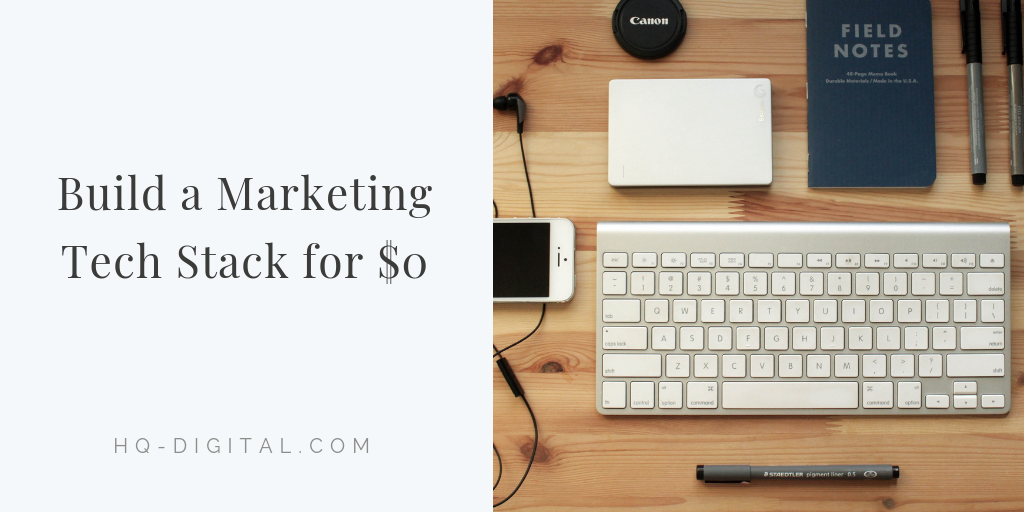 Use Canva to create professional-looking designs and a better user experience for your target audience.
7. Medium
Medium is a content publishing platform where members read important, insightful stories on topics that interest them. Medium gives authors worldwide a platform to share their ideas with the world. Marketers leverage Medium both to research what is popular and interesting in their industries and to publish their own content to get it broader exposure. Website traffic generated from Medium will be reflected in your website analytics as referral traffic. You can further track the success of your efforts on Medium with a tracking URL, also known as a UTM code.
8. Bit.ly
Bit.ly is a free URL shortening service that allows you to generate custom tracking URLs to improve your marketing reporting. Users can access basic URL shortening features for no cost. Google Analytics Campaign URL Builder has similar functionality, is also free, and integrates with Google Analytics.
9. Google Trends
Google Trends lets you analyze historical search data for industry terms. This data is valuable for setting your website traffic goals and for keyword research and selection. Review a handful of target keywords, and confirm whether there are seasonality elements to your business. Some industries are surprisingly affected by seasonal trends, so this is a data point you don't want to overlook.

Above: Google Trends shows historical keyword searches for the term "marketing." The obvious dips, in case you're wondering, represent Thanksgiving, Christmas/New Year, and the 4th of July.
10. Headline Analyzer
CoSchedule's free Headline Analyzer provides you with an instant analysis of the effectiveness of your headline. The tool will provide you with a report on the structure, grammar, and readability of your headline, including a detailed look at the breakdown of the words you've chosen. Compare and contrast different ideas for your headline to ensure you're using the most effective copy possible.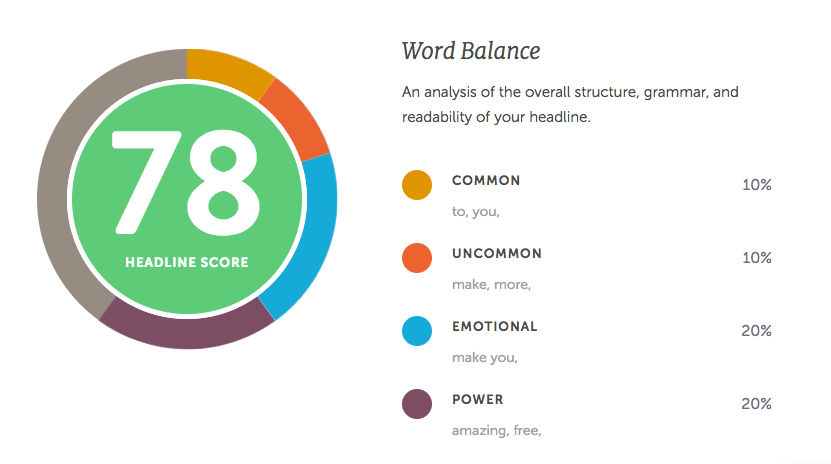 11. Google Alerts
Use Google Alerts to automatically generate a list of relevant web results related to a term of your choice. Google Alerts helps you monitor related content online, all within your inbox. You can use Google Alerts to monitor educational keywords related to your business, or branded terms like your business name or a team member's name, to stay on top of any press that mentions your company.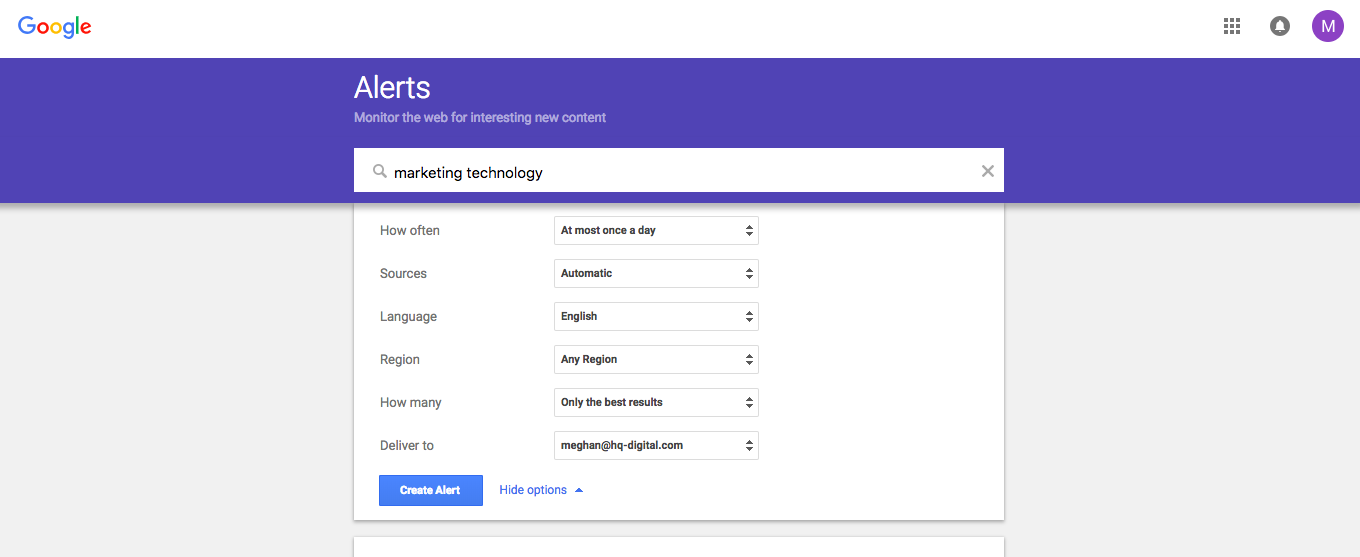 12. Social Mention
Social Mention is a free tool that lets marketers monitor the web for updates on any term you input. Social Mention will aggregate content from across the internet, including blogs, microblogs, and social media networks, to give you a real-time look at the popularity of the term and what others are saying about it. This a great tool to help brainstorm content ideas for your business and to optimize your social media marketing.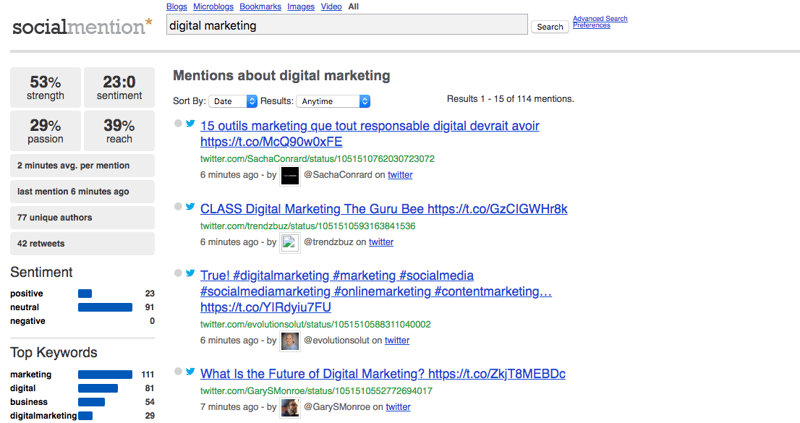 Ready to get started doing amazing things with your marketing tech stack? Get started building a better tech stack now by scheduling a free tech stack audit with HQdigital. Click below to schedule your free tech stack audit now.